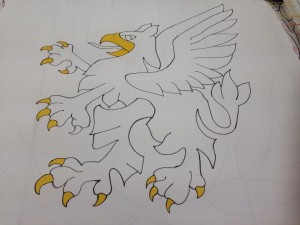 Firstly, this weeks class on Burgundian Fashion has been cancelled due to the teacher having a clash of schedules. Due to this, we will be working on silk banners instead for the barony. If you would like to be involved, please come along, it's free for engine to join in! Otherwise, there will be plenty of space for personal projects. If anyone has any 1m by 1m silk frames they could bring along, that would be grand.
The weekend we have two surprise session being held!
Sunday – 12noon – Tunics 101
Going to border war in a few weeks? Need extra tunics for festival? Just need some garb? Libby is going to be teaching a class on Tunic creation. We'll have sewing machines available, all you need to bring is 5m of fabric (Lincraft has a 50% off fabric sale at the moment, look for home spun cotton as a cheap option) and some matching coloured thread.
Sunday – 3pm – Brewing for festival with Rurik.
One of the aims of the Lochac Brewers guild is to enhance individuals experience of the SCA through beverages. As such in the lead up to festival I am going to be running two brewing days on  at Sunday gathering so that people can learn some basic brewing skills, have a product to take home and ferment it for festival.
The first of these sessions will be on Sunday at The Ainslie Hall and we shall be making HYDROMEL AS I MADE IT WEAK FOR THE QUEEN MOTHER from Digby. This is a small hydromel (a variation of mead) that is about 2% ABV with strong over tones of ginger. It is a refreshing drink that is suitable for festival as a day drink.
The cost for the class is free. However four people (will be able to take home a cube (22.5L or about 25 long necks) of must (unfermented wine) to ferment and bottle/keg at home for the cost of $17. To do this people will need to bring a container suitable for transporting 22.5l of hot must home in.
Next weeks class session on Wednesday is empty so far, would people like a hood making session before Festival?
Any questions, please let me know. Ideas for a class? Give me a buzz 🙂
Manda