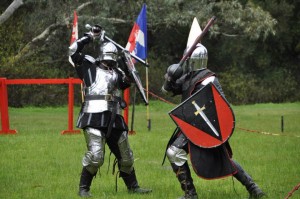 Few activities can match the colour, romance, and excitement of the medieval tournament of chivalry. Knights and Squires, Lords and Ladies compete with one another in displays of prowess and honour.
The Beginner's Combat Course aims to introduce the fundamental principles and techniques of tournament combat, construction of swords and shields along with some of the etiquette and culture of SCA tournaments.
The next course begins Wednesday 19 February 2013  
Venue – Ainslie Scout Hall, corner of Ebden St and Hassall St, AINSLIE.
Cost $20+ weekly Insurance $5 or SCA membership.
Classes are at 6:30pm on Wednesdays with a repeat class Sunday at 2:30pm
All equipment is supplied