Lord Otto was the winner of the Heavy tourney.
Lord Lorccan Ruadh was the Victor of the Fencing Tourney and was named Baronial Champion.
Sir Ysambart was declared the new Heavy Champion. Daeg, is the newest baronial guard and Lord Lorccan, the new Fencing Champion.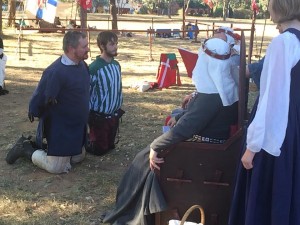 Sir Ysambart and Daeg being called up in court.
Lady Ida received a cup for being undefeated with a spoon
Thank you to THL Caera for her pictures and insights.