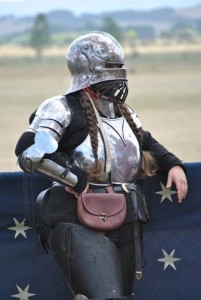 A call to arms! The Canberra chapter of the Society for Creative Anachronism is inviting Canberrans to pick up a sword, fight like a knight and learn the arts of medieval warfare over an 9 week "Foundations of Armoured Combat" course commencing on 13th of March.
The Society for Creative Anachronism (SCA) is an international organisation devoted to bringing the Middle Ages and Renaissance to life through research and re-enactment, employing their knowledge of history to enrich their lives and the lives of others. With over 100,000 participants worldwide, the SCA is one of largest living history societies in the world.
This course is designed to teach the fundamentals of armoured combat in the SCA and starts with an introductory session on the 13th March 2015, with practical classes from 2nd of April and following Sundays in Ainslie at the Ainslie Scout Hall, corner of Ebden and Hassall Streets.
"Last year we had a strong turnout of people looking to become modern day Crusaders, Vikings, Spartans or Knights" Ben Norman (aka Lord Otto Sexburger), course instructor said. "However I'm sure we can find a few more in Canberra, I'm sure the Baron is looking forward to having more men and women to fight on our side in the kingdom's next war"
SCA fighting is not the impractical and highly stylised fight choreography seen in Hollywood blockbusters but a martial art that is designed to emulate armoured combat in a way that allows you to deliver full powered blows without hurting your opponent.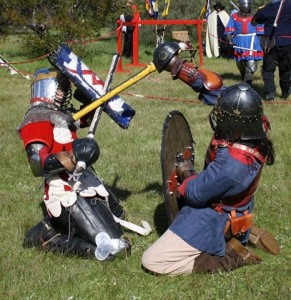 Male and female fighters (aged 16+) dress in armour, which ranges from full plate steel to padded doublets and leather, to protect them while wielding swords, spears, and axes made of rattan to simulate the balance and handling of original weapons, without the lethal qualities. Mr Norman is quite proud that "…by the end of the course each student has made their own sword and shield to use, a set of loaner armour to fight in and we're helping them to either buy or make their own set of medieval armour".
"Anyone can pick up a sword and have a go but the SCA offers you the opportunity to not just like fight like a knight but to aim to be one," Brigid Costello (Baroness Anne de Tournai), Canberra President, said. "You get the fighting but so much more – it's a gateway to a worldwide society of tournaments, wars, feasts and balls. Your whole family can be involved."
WHEN:                 Introductory Session 13th March 2016 at 1.00pm
Practical training commences 3 April 2016 (classes run for an hour, followed by supervised free sparring)
WHERE:              Ainslie Scout Hall, corner of Ebden & Hassall Streets, Ainslie, ACT
COST:                  $20 for the entire course plus $7 per session for insurance purposes (Membership options available)
CONTACT:          Benjamin Norman (Instructor) poleaxecanberra@gmail.com
WEBSITE:           http://polit.lochac.sca.org