Our "Arts & Sciences" are the crafts, skills, and technologies from the time period and cultures that the SCA covers. We research, study, and practice these skills and then share their results with others. You will see them in use and on display at our events – the recipes used for a feast, the armour worn in combat, the scrolls presented in Court, and the historical clothing (garb) we wear, just to name a few.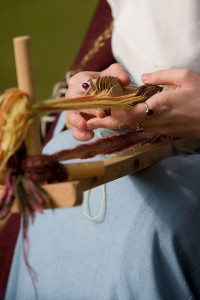 We learn about history by recreating it. We study period techniques and apply them in a modern world (considering things such as cost and availability of materials, safety, and such). Accuracy is important and we source a range of documentary evidence, including manuscripts, archaeological finds, paintings and sculptures, as well as stories told by the people that lived in those times.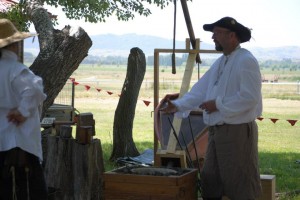 Most classes are conducted fairly informally, and evolve from one or two members researching a new technique, area of interest, or teaching a class that has been taught to them. We cover everything from making garb (clothing), leatherwork, studying games and music, learning medieval dance, fletching, making armour and weaponcraft, calligraphy, food preparation, heraldic design and display, plus a host of other interesting topics.
Regular Meetings
The Barony of Politarchopolis hosts weekly Arts & Science meetings at the Ainslie Scout Hall corner of Ebden and Hassall Streets, Ainslie on Sundays from 12-5pm.  During this time, members have the opportunity to work on individual projects or projects related to the Barony.
Calligraphy and Illumination occurs at the hall on the 2nd Sunday of each month. Scribes Guild members work on scrolls and illumination work for the Crown and the Barony.
Dance practice is run on a weekly basis.  For more information, please see the Dance & Music page.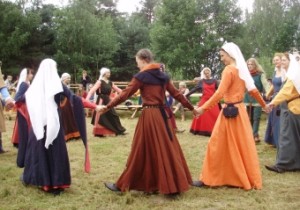 Classes run by members of the Barony are held on an ad hoc basis.  These classes will occur either on Sunday afternoons or Wednesday evening at the Ainslie Scout Hall.  Please check the calendar or news for upcoming classes.
Competitions
Competitions are run at both Group and Kingdom level.  For information on Kingdom competitions, please see the Lochac Arts & Sciences page.
In 2013 the Barony is running the Politarchopolis Pentathalon.   Teams containing no more than 5 members were given 5 items at random and asked to present entries focussing on each of those items at specific judging dates.  For more information see the Pentathalon Page.
A Baronial Arts & Sciences champion is selected each year by the Baron and Baroness.