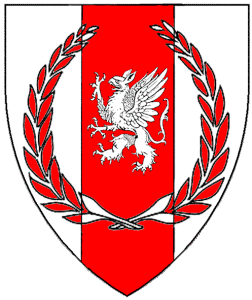 Baronial Quarter Day is a casual day event in garb that includes an archery IKAC, heavy tourney, rapier tourney, A&S classes, and Court (if their Excellencies wish to hold one). BYO picnic blankets, chairs, snacks, drinks, sunshades etc. This is not a catered event and it is purely outdoors, although we can access a kitchen and bathrooms.
The purpose of Baronial Quarter Day is similar to the old "Baronial Sunday" – it's an opportunity for members of the Barony to come together to participate in the activities we all enjoy doing, in a relaxed environment. These events will occur once a quarter, each time stewarded by a different person.
Event details: Saturday 24th October 2015.  Tuggeranong Archery Club, 299 Soward Way, Greenway ACT.
Site opens at 9.30am for a 10am start.
Timetable:
10.00 Opening Court
10.30 Baronial Archery Championships- On going event through the day run by Wintherus.
11.00 Heavy and Fencing tourney (Heavy: Best of three, Matched weapons tourney) and Fencing tourney (TBA) (swapping rounds as per current practice)
11.00 A&S Class
12-ish BBQ
12.30 Glima demonstration
1.30- Children's Story time
2pm Closing Court
Steward Details
Ginevra Lucia Di Namoraza
No bookings required. Enquiries and offers of assistance to ginevra1488@gmail.com.
Event pricing: $2 per person (plus $5 for non-members). Children under 10 free.