Inspired by Mistress Sabine's Collegia on Heraldic Standards and the banners of St Florian's (https://threegoldbees.com/collegia-notes/heraldic-standards/ ), the Barony is calling all members to come along and make a painted standard (of a standard shape and size) to increase the pageantry on display.
The project will start after Polit Uni. You do not need registered heraldry to participate however heralds will be around to assist you if you would like to develop your personal heraldry. Standards will have a cost of $15. Some materials have been sponsored, please message me if you wish to discuss accessing those.
You can register to participate here:
Here are some answers to questions that may come up for you.
What are the standards made of? Standards will be calico painted with acrylic mixed with fabric medium to make them water safe.
Can I take it home?
Yes! Your standard belongs to you. You will be encouraged to display them and stewards will occasionally ask to borrow standards for hall decorations but they will belong to you! All yours!
I'm in Torlyon or Okewaite and can't get to Canberra.
Can I still participate? Yes! Templates for sizing and basic chief/hoists (the bit at the top of the banner) will be made available through the A&S officers for each of the cantons.
I don't have registered heraldry. Can I make one?
Yes! The standards are an interpretation of heraldry, not a direct replica. Basic heraldic rules still apply (no colour on colour or metal on metal) but you can still make a standard. Baronial and canton heralds would love to help you register your arms if you would like to but it's not mandatory.
I'd like to make a standard but I can't afford it at this time.
Some of the members of the Barony have sponsored a number of banners for those who'd like to participate but don't currently have funds. Please talk to Anne (
Brigid Costello
) if you'd like to access those materials.
When does this start?
It will begin the weekend after Politarchopolis University and run most Sundays at the Ainslie Hall.
I can't draw! Will there be people to help me?
Some people will be available to help me but we'll also be developing a range of templates. The calico is thin enough to allow for people to trace designs from templates through it. You can also use the Pictorial Dictionary to help you get templates for tracing.
http://mistholme.com/pictorial-dict…
What size will the standard be?
2.7m in finished length, and 1.05m in width. The hoist section is exactly 75 cm wide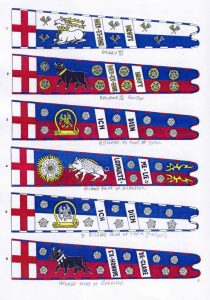 There will be no access to the hall or training scheduled for the next two Sundays due to the impending Rowany Festival.  Normal training and activities will resume in April.
Anne
Seneschal
What: An intensive workshop on Early 16th century Spanish gowns.
When: 13th and 14th of June 2015. 10am- 4pm both days.
Where: University of Canberra, Rooms TBA
Steward: Ginevra Lucia Di Namoraza ( Carina)
Deputy Steward: Helayne Quynteyn (Kylee)
Webmistress: Eyfura ( Elonwy)
Teachers: Mistress Constanzia will consult us via the facebook group whilst five fantastic laurels are travelling to help us with correct patterning. Details TBA
And you!
$5 for members
$10 for non-members
Money will go towards printing, tea and coffee as well as incidentals. Money left over will go in a workshop fund.
The goal: The aim of this workshop is to increase your skills and knowledge of Spanish dresses, with the goal to encourage and support beginner and intermediate sewers to pattern and construct an early 16th century Spanish dress and chemise ( Optional). Depending on sewing expertise, some may go away with a full dress and chemise, whilst others will have most of a bodice down, ready to finish at home. Sewers will be paired up to help each other pattern and we will have teachers checking on progression and helping as needed.
If you are an independent sewer attending our workshop for motivation and inspiration, you will be encouraged to work on your gown as you see fit and supported as much as is possible around that. Any support you can offer to your less experienced sewing friends will be appreciated!
Register your interest at ginevraworkshops@gmail.com. ASAP. This will enable us to:
book an appropriate room
help us when doing our optional, potentially discounted group order (boning, fastenings, interlining, striped white fabric etc.)
allows us time to speak with other teachers, so we can set an appropriate class size.
Look out for your booking email – once we have confirmed availability of teachers, we will open the bookings. You will receive an email to say that you are being offered a place, or are on the waiting list. You will have 3 days to respond before your place is offered to the next participant on the waiting list.
Once your booking is confirmed, fees will need to be paid in cash or via direct debit.
Beginners are highly encouraged to pick from a couple of simple dresses on the Facebook page. This will help us to help you construct a gown by the end of the workshop.
When booking, please send us the following:
Name and SCA name, as well as membership details.
Sewing experience – please indicate whether you are:
 a (mostly) independent sewer who is just coming along for some advice and motivation, and/or some help in one particular area (e.g. patterning)
a pretty okay sewer, but need a bit of help along the way. I can do the following things:
Patterning:
Constructing experience:
Use of sewing machine:
Use of overlocker:
 a complete newbie, but you're super excited to learn!
A picture or drawing of the dress you want to make, or confirm satisfaction with our beginner option. This information is helpful for us in organising the teachers, space and workshop.
If you need billeting.
If you are happy to billet.
If you wish to participate in a group order, and what you wish to buy
Any needs you may have.
If you have any sewing machines/overlockers you are willing to share with other participants
Pre washed fabric for dress and chemise
Preferably pre ironed the aforementioned fabric
Material: 5-6m of natural fabrics (Thin wool, thick silk, medium to heavy linen, brocades. Brocade, silk and velvet will result in a more formal gown, linens will be a more casual gown/suitable for warmer weather)
Material: 2-3m of white/white with black lines (Again natural fibres such as linen are best)
Material: 1-2 m of lining for bodice and sleeves.
Lining for skirt as well as bodice may be need for thinner materials – if in doubt, ask!
Sewing threads to match fabric of dress and chemise
Material for the guards/trim ( black bands on dress and sleeves) if you choose them (black velvet bias binding, velvet trim, etc)
Boning
Interlining
Lucetting cord/ribbon
Fastenings
Pins
Tailors chalk
Measuring tape
Bring a plate to share for lunch, or bring your own if you have dietary requirements.
Bring personal plate, cup and utensils
If you have a sewing machine or overlocker, please bring it with you.
Bookings open on the 27th of April and the 15th of May is close of Bookings.
The workshop is held on the 13th and 14th of June
Resources and references will be available on the day.
A guide and reference will be emailed out to all participants, and printed copies will be available on the day.
Spanish dresses will be available to look at.
There is a Facebook group, (https://www.facebook.com/groups/1562004310731278/?fref=ts) please join for support and communication.
Remember to bring water and snacks!
This is an intensive workshop designed to get you a mostly wearable dress in two days (some hemming or finishing etc at home may be required). You will need to bring all your focus and energy…and perhaps consider leaving your children at home 😉
First day is patterning and constructing of the gown, second day is finishing the gown and constructing a chemise. For early finishers accessory options may be available, otherwise we are sure beginners would appreciate the help.
An accessories class featuring headgear, jewellery, etc will be held at the Politarchopolis A&S Collegium in August.
Facebook page is here: https://www.facebook.com/groups/1562004310731278/?fref=ts
Please book here: http://elle871.wix.com/frockworkshop#!rego/c1l1j
Ginevra
The new Baronial Archery Champion is Wintherus Alban. Huzzah!
Woe to any who would attack our walls, for they shall not advance within bow shot for the hail of arrows that will be.
Our thanks to Lord Sigmund for his year's exemplary service.
We congratulate all those who participated in this years' championship. It has been a lot of fun.
We had 20 archers in the field round of the championship today, and a number of observers. The picnic lunch was ample and scrumptious, and we were blessed with gorgeous weather and magnificent views.
There were six fabulous entries in the A&S competition, ranging from the practical to the delicious. There was poetry, there were bunnies, there were cupcakes, as well as a masterfully decorated bow rack and a token effort by the incumbent champion.
Lady Avril of Ambledune won the A&S with her perpetual banner, featuring archery motifs and space to record the personal colours of each of our champions past and present.
As Baron and Baroness, we were proud to witness the prowess of our archers, to see their creativity and to enjoy the hospitality of their table. It was also lovely to have other members of the populace turn out to enjoy the day with us. Thank you, and we hope to see you all again very soon.
Joan, Baroness.
6.30pm – 8.30pm
Cost: Gold coin donation to hall costs (Non members pay $5 for insurance in addition)
Bring: Good sense of humour and maybe some snacks/a drink
Program is open to suggestions, but the current plan is;
Dancing:
Revision of Known World Pacane and the Black Allemande.
New – the Official Bransle and another Bransle if we have the time
Singing: Tavern song and a round
Performance: we are currently open to suggestions!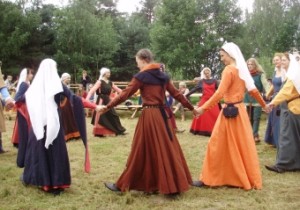 Hello everyone!
A few A&S updates 
Firstly, there is an extra class being run this weekend. Rachel will be hosting a class at 1pm: Entering A&S Competitions for beginners. Should be a great class for people to learn some of the ropes and get up the confidence to enter.
Secondly, Helouys and Lady Emeline are going to hosting a series of focused dance workshops to get people festival dance ready and working towards their Silver Rondels. The sessions will start on Sunday the 15th of March, go from 12.30 – 2pm, and run for 5 consecutive weeks. These classes are for both beginners and those who need to brush up on their skills. The last session will be the Sunday before Festival so it should be fairly fresh in everyone's minds and it will be a mini garbed ball so that beginners can get used to dancing in skirts and slippery shoes.I've added each of the sessions to the class list below. Remember: dance is lots of fun and great exercise. Come join in!
Don't forget on Wednesday evening we have a class on Identifying Fabrics and on Friday we have Courtly Graces. Sunday includes brewing with Rurik (please give me a yell if you want to get involved) and A&S competition introduction by Rachel.
Lastly, I need a little help with banners. If anyone can lend a hand hemming on Wednesday or Sunday I would be beyond appreciative.
……..
26th Feb – Wednesday 7.45pm – Fabric Identification
28th Feb – Friday 6.30pm – Courtly Graces
2nd Mar – Sunday 12noon – Brewing with Rurik
(booking required for practical, cost TBA)
2nd Mar – Sunday 1pm – Entering A&S Competitions for Beginners
5th Mar – Wednesday 7.45pm – Easy potluck plates
and simple period dishes
12th Mar – Wednesday 7.45pm – Ye olde wattle
bottle covers (gold coin donation for fabric)
15th Mar – Sunday 12.30pm – Dance Session 1, Cassandra and the Knowne World Pavane
19th Mar – Wednesday 7.45pm – Intro to blackwork
embroidery styles and stitches
23rd Mar – Sunday 12noon – Workshop, Make your
own weapon rack (bookings required for practical, cost $35)
23rd Mar – Sunday 12.30pm – Dance Session 2, Pinagay and the Black Allemand
26th Mar – Wednesday 7.45pm – Basic history and
styles of period beadwork
30 Mar – Sunday 12.30pm – Dance Session 3, Ruffty Tufty
2nd Apr – Wednesday 7.45pm – A class on period
plays
6th Apr – Sunday 12.30pm – Dance Session 4, Review
9th Apr – Wednesday 7.45pm – Designing and
registering your coat of arms
13th Apr – Sunday 12.30pm – Dance Session 5, Mini Garbed Ball
30th Apr – Wednesday 7.45pm – Event Feasts
7th May – Wednesday 7.45pm – Period Toys and
Games
In Service
Sophia
Firstly, this weeks class on Burgundian Fashion has been cancelled due to the teacher having a clash of schedules. Due to this, we will be working on silk banners instead for the barony. If you would like to be involved, please come along, it's free for engine to join in! Otherwise, there will be plenty of space for personal projects. If anyone has any 1m by 1m silk frames they could bring along, that would be grand.
The weekend we have two surprise session being held!
Sunday – 12noon – Tunics 101
Going to border war in a few weeks? Need extra tunics for festival? Just need some garb? Libby is going to be teaching a class on Tunic creation. We'll have sewing machines available, all you need to bring is 5m of fabric (Lincraft has a 50% off fabric sale at the moment, look for home spun cotton as a cheap option) and some matching coloured thread.
Sunday – 3pm – Brewing for festival with Rurik.
One of the aims of the Lochac Brewers guild is to enhance individuals experience of the SCA through beverages. As such in the lead up to festival I am going to be running two brewing days on  at Sunday gathering so that people can learn some basic brewing skills, have a product to take home and ferment it for festival.
The first of these sessions will be on Sunday at The Ainslie Hall and we shall be making HYDROMEL AS I MADE IT WEAK FOR THE QUEEN MOTHER from Digby. This is a small hydromel (a variation of mead) that is about 2% ABV with strong over tones of ginger. It is a refreshing drink that is suitable for festival as a day drink.
The cost for the class is free. However four people (will be able to take home a cube (22.5L or about 25 long necks) of must (unfermented wine) to ferment and bottle/keg at home for the cost of $17. To do this people will need to bring a container suitable for transporting 22.5l of hot must home in.
Next weeks class session on Wednesday is empty so far, would people like a hood making session before Festival?
Any questions, please let me know. Ideas for a class? Give me a buzz 🙂
Manda
Hello all!
I'm sure everyone in the Barony has been eagerly awaiting the announcement of a new A&S competition!
Wait no longer! Behold, The Great Politarchopolis Gift Bestowal of 2014! Everyone who was involved in the Pentathlon worked insanely hard last year, so I thought we might be due for something a little lighter and less intense. This year, I will be running what is essentially a A&S Competition based around the concept of a Round Robin of gift making and giving.
The Competition:
– Registrations are open as of now to join in.
– The enter you must send me your Name (legal and SCA) and period of interest. You may also choose to send me your geographic area of interest and 3 topics of interest. As an example you could include France (Music, Hats and Books). The more information that you give, the more likely it is that you will receive something useful to you.
– On the 2nd of Feb, I will draw people randomly from a hat and you will be assigned your target.
– You will also be given a category; Fashion & Accessories, Household Items, Warfare, Food or Entertainment
– Make an item to give to your target! You will also need documentation for the competition side of things.
– Items will be judged at the August A&S Event, where the gifts will also be distributed to their receivers. There will be a winner of each category and also a voted on populace favourite.
FAQ (so far)
Does it need to stay secret?
No, it's up to you whether you want to remain secret. It may be an item which you couldn't create without talking to them. Or this may be a chance to talk to someone and get to know them better before sorting out what you want to make. It's entirely up to you. You can be as sneaky as you want to be. Publicly sharing your journey is highly encouraged through blogs, Facebook, emails, messenger pigeon or whatever takes your fancy. If you want to be sneaky, start a new blog site anonymously and then flaunt your progress through it while your target tries to work out who you are!
Can I swap my target or category with someone else?
Of course! Try to do it as soon as possible to make certain everyone has a chance of getting something completed. All I ask is that to remember that sometimes challenges are awesome
What happens if I can't finish it (due to life/responsibilities/crazed sloth attack)?
Please don't fret! Life happens and that is understandable. If you could provide a small gift for your target (gift voucher, something already completed, hoard, IOU, bottle of wine etc), that would be great. If not, I will try and organise a substitute. Please just let me know ASAP so that I can work out a solution and make certain everyone gets something shiny.
Please limit the spending on your item to an upper amount of $50. Trades, up cycling and creative thinking are highly encouraged for your materials. This is about creating something awesome for another lovely person, so the idea is to put in as much effort as you would like someone to put into you. Items which also carry a story as to how they were completed are an added bonus for the recipient. As an example 'The fabric came from my stash which I bought in Germany, and the buttons were a gift to me from the Queen…'
I don't live in Politarchopolis
No problem! I'm not really limiting it to just Canberra as there are plenty of Polit people living in all sorts of interesting places. However, I would ask that everyone who is involved to have at least some connection to our fair barony. Also, please be mindful of how you will get your gift to Fields of Gold and how the giver can get their gift to you. There are plenty of options on how to do this, but just consider this before entering.
There will be five judges, a specialist for each category. Judging will use the standard matrix. There will also be a populace choice winner, which will be voted on at the August A&S event.
When will I know the results?
As soon as the judges finish judging
What if I can't be there at the hall for the Draw?
That's okay, at the end I will draw the rest of the people and send through the results via what every form of communication you find the easiest.
– What if I can't make it to the August A&S event?
That's okay, but you will need to get your gift delivered there for the judges. If you start to get worried, let me know and we will work out a plan together on how to get it there.
My target wasn't at the August A&S event, how do I get their gift to them?
That's okay! Contact the target and try and nut out a plan on how to get it there. Teamwork is the name of the game!
My target lives in America and I'm going to carve a 4 poster bed!
Please think about the realism on how you might get peoples items to them. If you find yourself thinking 'Wow! I have no idea how to get this there', it may be a project that is a little too big for a distance thing.
Well that's not very nice, in fact I think we could even use the word Grinch. The gift giver should have spoken to me before it got to this point, but I will be doing a tally and call around at the end to make sure everything goes alright. If, failing that, there is a gift missing I can't guarantee that I will find a replacement person but I will try my best!
Bollocks! This could mean two things. I could be contacting you to see if you would consider doing something to cover someone else or it could happen right at the end. If it's to cover someone else, it's okay to say no and continue what you are working on but it would be awesome if you could help. It's up to you. In all cases, you can either give the person the gift anyhow, give it someone else, keep it, sell it, donate it, auction it, throw it, it's entirely up to you.
– What do the winners receive?
The satisfaction of knowing that they made something awesome, made another person smile and a shiny gift from someone else
Any questions? Please send them through! If you can see any concerning problems with this, please give me a yell
Hello everyone!
Who feels like some awesome A&S classes and projects?
Firstly, there are projects lined up for Sundays but there will still be plenty of room for anyone that wants to grab some space and work on a personal project! Come join us, there is tea, coffee and occasionally more talented people then I bring cakes.
Secondly, A&S will be running Wednesdays at the Ainslie Hall from 7.30pm till 9pm. This is awesome! Tea and coffee will be available, some of us will probably be ordering food to come to the hall and if you have already eaten that is fine as well. If you are interested in running a class, please get in touch with me ASAP, the beginning of the year is starting to fill up quickly!
Thirdly, you may notice that there are no times filled in for after the 16th of Feb. With a possible change to what times we will have access to the hall, I am listing these classes but I won't be able to give an exact time until the baronial meeting.
Also, if there is a type of class you would like to see run, let me know! It's a lot easier to organise classes if I have an idea of things that people want to learn about!
So, without further ado!
……..
Silk Banners – Kicking off on the 12th of January at 12 noon. This will be running every Sunday for the next 4 weeks, hopefully to have them ready by Border War. For the first weekend we will be designing and drawing up our cartoons for the banners. Come along, learn some new skills, participate in a big baronial project and have fun with awesome people! Even if painting isn't your thing, there is a list of other things that will need to be worked on as well.
Wednesday 15th January, 7.30pm – Basic twisted wire rings, hosted by Manda Swadling. The Baronial coffers are lacking in the taxes that they deserve! I will be bringing beads, wire and some tools so that we can fill the Baronial box with lovely twisted wire rings. If you have a pair of long pliers, or red and white beads that you would like to add to the collection, please bring them along.
Wednesday 22nd January, 7.30pm – Tassels and finger loop braiding, hosted by Manda Swadling and Tim Liersch. The Baronial coffers are lacking in the taxes that they deserve! I will be bringing lots of cotton so that we can make so lovely bits for the Baronial box.
Wednesday 29th January, 7.30pm – How to run lists, including a practical presentation, hosted by Shona Klocke. Ever wanted to learn how to run a list for a tourney? Very handy skill to learn for all those who enjoy taking the field and for those interested in participating without the bruises!
Wednesday 5th February, 7.30pm – Voice Heraldry 101, hosted by Micheal Stankiewicz. Voice heraldry can seem intimidating at first, but this session will guide you through not only voice heraldry but also through some basic public speaking tips. How to tackle those hard names, voice projection and how to get the populaces attention!
Wednesday 12th February, 7.30pm – Ladies Burgundian Fashion, hosted by Wendy Weber. More details to come!
Wednesday 26th February – Simple steps to improve event photography, hosted by Manda Swadling. Want to take amazing photos at events? The probability is that you already have been, you just need a few extra tips on how to make your photos really shine. This is a very straight forwards class, anyone with any type of camera can learn these very simple steps. I'll also cover some basic camera buying tips for those looking to change cameras.
Wednesday 19th of March – Intro to black work styles and stitches, hosted by Naomi Lea – More detail to come!
March 5th – Easy potluck plates and simple period dishes, hosted by Mistress Kiriel
March 26th – Basic History and styles of period beadwork, hosted by Alex Rapp
April 2nd – A class on period plays, hosted by Chris Struz 
Good morning!
I was having a discussion with His Excellency Master Crispin about the 10 meters of silk that I bought and put aside for the barony this year. The time has come for us to build up not only a mighty war band but to ensure that our fighters and campsite are gloriously decked in red and white silk banners.
To do this is going to require a few populace who are capable of designing the banners, a few people capable of making the wood frames, a lot of people willing to paint and hem the banners and a few people capable of making protective bags that they can be stored in.
Lastly, I've heard that an army is gathering in Borderscross for an assault that they plan on carrying out in Feb. It would be fitting to have our warriors and campsite banners at least partially ready by then.
If you would like to get involved, ping me and I will start up a discussion group. This should be a really fun project and should add a lot of bling to various occasions. Even if you don't have any silk painting skill, ping me anyhow because we are happy to teach the enthusiastic. I would also like to break this into small bite sized projects so as not to overwhelm any one person 🙂
In service,
Lady Sophia van Dorne