Minor update from the December 2013 version.
So you have been asked to join the Baronial retinue? What will be expected of you as a member of the court?
 At the most basic level, the task of the retinue is to help the B&B do their job as smoothly as possible. This applies mostly during events, but also at other times when help may occasionally be required. The secondary role of the retinue is that, simply by looking good and being attentive, they add to the glamour of the B&B and of the occasion.
 At events, the B&B's duties are public and ceremonial – they have to hold court, sit in state at tourneys, be present at the high table during feasts, and maintain gracious poise while dealing with all kinds of officials and supplicants. These tasks are time-consuming. Their retinue should take the brunt of everyday chores, leaving the B&B free to concentrate on creating pomp and ceremony.
Some ways in which you can help are:
Before an event, check if the B&B need help with anything – sewing, preparing gifts or tokens, transporting things on the day.

When they arrive at an event, help unload baggage.

Fetch and carry things.

Set up tents, move thrones.

Keep their gear together, and tell them where important items have been put.

Help them dress if required.

Keep a list of things to be done, people to be interviewed, items given or received, any work which needs to be remembered later.

Protect them from wind, sun, rain and cold.
Make sure food and drink is brought to them.

Set up your own chairs behind them, keeping out of the way yet within easy reach.

Help pack up after events.
 At a Feast:
Check who is to sit at the high table, and be the messenger to arrange this.

Set up feasting gear for the B&B and their guests, in plenty of time.

Keep one attendant nearby throughout the feast in case something is needed.

Wash and return their dishes. It's nice to do this for everyone on the high table.

Double-check nothing is left behind during packup.
 For a Court:
Set up the thrones and a small table – the scene should look good from the audience, and leave space behind the thrones for people to move around.

Keep cool drinks, tokens, documents, gifts etc ready to be used.

Untangle any token cords before court begins, and keep them untangled.

Know which tokens are which, and hand over the correct one.

Offer occasional drinks if the court is long. Remember the herald as well.

Take charge of any items the B&B have finished with.

Be quick to help up people who have been kneeling.

Someone should keep notes for later reference – who presented what, which awards were given, important information of any kind.

Courts can be long, and you will have to stand throughout. Wear comfortable shoes, visit the privy beforehand.

If you are unable to attend court, let the B&B know in good time.
 Do your best, and remember to have fun as well!
 Stuff that applies to everyone:
– court positions are envisaged to last about a year, subject to circumstance.
 – essentially, all retainers are there to be helpful to the B&B in any way they can. If you cannot help with a particular task, you can still help by finding someone who can! Retainers add to the court experience by making things run smoothly and by making the B&B look important and organised.
 – be an intermediary between the populace and the B&B – take messages, deliver things. This allows people to access the baronial ear without having to interrupt us directly.
 – confidentiality – simply because you are in attendance, you will probably overhear sensitive information relating to court business or to personal matters. Keep these things private.
 – a number of retainers will be wanted for any court. This could mean only one or two, or lots! Smaller events need fewer attendants. Don't worry if you are not asked to stand with us every time.
 – if you are among the populace during court, you still have a role to play. Some people around you may be unsure how to 'play the game'. Lead them gently by your example – standing while the pointy hats enter, sitting only when permission is given, keeping approaches clear, listening quietly during court business, joining in cheers…try to help everyone around you be comfortable and enjoy the pageantry of court.
 – all retainers should be on the lookout for suitable people to recommend to the B&B for reward. You may also be asked to help identify replacements for your job when the time comes.
 – Some court positions have regalia. This should be carried / worn, particularly during court. If you have no regalia, atttend the B&B looking as neat and clean as you can.
 Some more specific expectations:
The Baron and Baroness are the representatives of the Crown: their job is to look regal in public, wear the coronets, provide a ceremonial focus, encourage people to get involved and enjoy themselves. Conduct negotiations with other groups and the Crown. Hand out awards. Organise court business, tokens, documents. Report to Crown, arrange Royal visits to the group.
 Ladies- /Lords-in-Waiting look after the B&B's general needs: replenish food and drink, fetch and carry, set up for court, tidy B&B before entrances, take notes and keep reminders for later reference. Keep track of regalia and other belongings for the B&B during events. Maintain subtle attendance throughout an event. Make sure there is always someone within easy call when needed. Hold all sorts of stuff ready for use during court. Often seconded to assist visiting royals or B&Bs.
 Guards provide chivalrous martial tone: be available for heavy lifting jobs. Set up tents and thrones, pack / unpack cars and trailers. Provide personal protection and escort to the B&B. Be an example of chivalry and courtesy – escort unaccompanied people into the baronial presence, help up anyone who has been kneeling, find chairs for the weary. Guards are often asked to hold banners or other large display items during court. Often this includes providing light for the herald.
 Champions encourage their art among the populace: among other tasks, they may need to organise an event to choose their replacement, make regalia for the next champion, run competitions or offer advice to the B&B on matters concerning their area of expertise. They are also required to answer any challenges made to the Barony or B&B.
 Heralds are the voice: keep track of court business, make announcements, add pomp by saving the B&B having to speak for themselves.
 Other court positions may be appointed at the whim of the B&B, whether for short-term purposes or as permanent additions.
 The Baron and Baroness of Politarchopolis offer greeting unto visitors and travellers in their lands.
 The people of our Barony are many, and their interests cover every aspect of the modern medieval world. Whatever you want to do or learn about, be it cooking, fencing, event managing, embroidery, archery, calligraphy, armouring, building furniture or piling up rocks…if you would like to do it in a medieval way, there is someone who can set you on the path. We are made richer by the contributions of each and every person in Politarchopolis, and will be glad to include you in their number.
 If you come to us from other parts of the Known World, you also are welcome within our borders. Whether your stay is for a day or for many years, we hope that when the time comes for moving on, you will bear with you many tales of good times and fast friends.
 We bid you welcome, and trust that you will enjoy your time with us.
 In service to Politarchopolis, to the Crown of lochac and to the dream,
Master Crispin Sexi, Baron, and Dame Joan Sutton, Baroness.
 Baron Crispin and Baroness Joan offer greetings unto their noble and gentle populace of Politarchopolis, wishing that all are kept in good spirits and rude health.
 Of first importance, thanks again to all those who made Fields of Gold the fabulous extravaganza that it was, and who helped us in both large and small ways as we took on the role of being your Baron and Baroness. We are very proud to be here, and hope the Barony will prosper even more than usual during our reign!
 A town meeting has been scheduled for soon after Christmas. The purpose of this meeting (beyond socialising!) is to create a forum for ideas from all members of the Barony, and to assist bot h us and the Officers in planning for the coming year. We aim to help you get more of what you want out of the Society, and with so many different interests and opinions, that takes planning. And participation.
 So, if you have an event idea, if you want to run an event, cook for an event, clean privies at an event…come along. If you want to catch up with people you aren't necessarily related to, after the family holiday, come along. If you want a say in the shape of future meetings, training sessions, competitons, etcetera…come along! And if you think you might like to take on an officer role, but just need a bit of encouragement, please come along. 😉
 The meeting is planned for Sunday, 5th January, at the Ainslie hall. Please come and join the fun!
 After the Town Meeting, the next items in our official calendar are Twelfth Night in Okewaite, followed by Valentine's. His Excellency will be travelling to Border War in February. We hope many of you will also be able to enjoy these events.
 Those who attended Yule may have heard talk of our consultation with the Oracle. In her wisdom, she has delivered us a riddle of oaks and rowan trees. We believe we understand her meaning, and intend to make a show of strength at 12th Night. We expect the matter to escalate from there. 🙂
 In service, this seventeenth day of December,
 Joan and Crispin.
For the information and edification of the populace, here is a copy of the letter delivered to our Rowany cousins this Yule Feast past:
Unto Their Majesties, Royals, Rowany and Nobles all, Politarchopolis sends heartfelt greetings.
In honour of the Crown Prince and Princess, their upcoming reign being styled in the ways of ancient Greece, we have taken it upon ourselves to consult the Oracle, and have asked advice to guide Politarchopolis in the coming half year.
The Oracle, she chewed leaves of the Laurel tree, and inhaled fumes from a rift in the earth, and before passing out she uttered moans and shrieks, which the assembled priests did wisely interpret into actual words.
And they said the Oracle spake thus:
"The field is thick with spears of wood, but
Mighty Oaks grow not from Rowan Seeds"
The Oracle is never wrong, though oft takes some deep pondering to understand, and this prediction is no different. We thought perhaps you, our cousins, might have some insight into these words, given your familiarity with Rowan trees. We shall share our ponderings with you when we meet at the feast of Twelfth Night.
Until then, may fortune favour all,
Crispin and Joan, Politarchopolis
This weekend Their Majesties, Niall and Liadan took the fealty oaths of Crispin and Joan, investing them as Baron and Baroness of Politachopolis upon the Fields of Gold!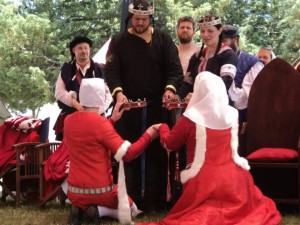 At the request of the Crown, Sir Ysambart will today open the Baronial Candidate Survey.  This will allow members of the Populace to provide their views to the Crown who will make the decision as to who will lead Their fair lands of Politarchopolis. The site will close on the 29th of September with Their Majesties making Their announcement at Spring War and the Great Southern Gathering.
You will find the survey here.
Can't remember who wanted to do what?  Who said what?  For letters of intent please click here.
Greetings to the populace,
To ensure candidates are able to provide excellent applications and to give others a chance who have been considering the role, we will be extending the deadlines for the baronial selection process.
As such the nomination deadline will extend to the 31st of August. Please send applications to royal@lochac.sca.org and politarchopolis@lochac.net. Once the list of candidates is finalised and the Crown have confirmed that the nominees are acceptable to them, we will publish it ASAP via email and on the website along with each couple's/candidate's 'letter of intent'. Their Majesties will provide the Barony with a list of the nominees after the 31st of August which will enable us to have a Meet the Candidates session, Wednesday the 11th of September 2013 at 7pm at the Ainslie Hall.
For those unable to attend, a video will be available on request from the Meet the Candidates Session. The seneschal will be providing more details about this process and the questions posed to candidates shortly.
The poll will then run for the last two weeks of September (Sunday 15th –Sunday 29th). Their Majesties will then have a few days to consider the responses and make Their decision in time to announce it at Spring War and Great Southern Gathering.
We would like to remind people that Letters of Intent need to include a description of themselves as well as their history in the SCA and their plans if they are selected, and noting that nominees don't need to be resident within the barony if they can show that they can fulfil the duties of the office and can demonstrate a history of active participation in the group.
Once the Crown have made Their decision, They will inform the candidates before announcing that decision at Spring War and Great Southern Gathering. We will then to publish that decision on the website and the mailing list.
Quick Glance Calender:
31st of August: Nominations due
2nd/3rdof September: Candidates announced
11th of September: Meet the Candidates
15th-29th of September: Polling Period
Spring War/GSG: Announce
Aonghus and Ginevra
Baron and Baroness of Politarchopolis
Greetings to the populace!
This year seems to be going by very quick and we've enjoyed some great events including the Feast of St Valentine and Festival.
We are looking forward to the rest of the events coming up this year, at least one a month! Our new coronets should be on their way to being made soon and we are very happy with how the barony and its colleges are faring.
Politarchopolis seems to be thriving at the moment which is fantastic to see. Many people have been putting in much hard work and if you have seen someone do so, please recommend them and their actions to us at Politarchopolis@lochac.net. A full list of available awards is available here.
Yours in service
Aonghus and Ginevra
Baron and Baroness