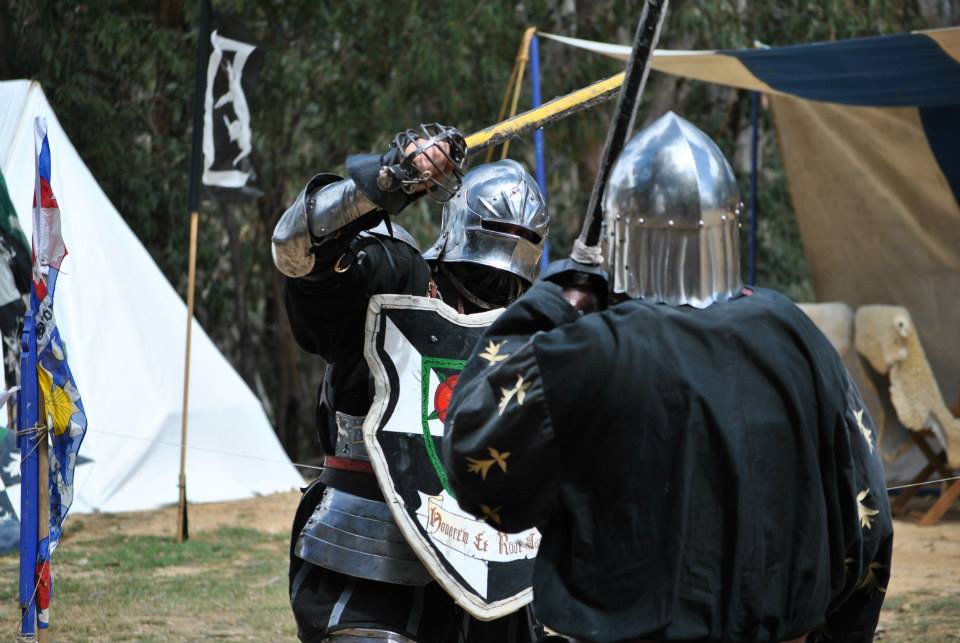 TIME TO FIGHT LIKE A KNIGHT! 
The Canberra chapter of the Society for Creative Anachronism invites Canberrans to pick up a sword and fight like a knight as they learn the arts of medieval warfare in this full speed, full contact pursuit over an 9 week "Foundations of Combat" course..
Enter into contests of skill at arms with the raw intensity of a real battle in a modern day Game of Thrones. This year we are proud to announce we are providing a Mentoring Program for students that teams them up with senior combatants.
Next Course Begins:  2:30pm 5th March 2017
Cost $20+ weekly Insurance $5 or SCA membership.
____________________________________________
The Politarchopolis Foundations of Combat Course aims to introduce the basic principles and techniques of tournament combat, construction of swords and shields along with some of the etiquette and culture of SCA tournaments.
SCA fighting is not the impractical and highly stylised fight choreography seen in Hollywood blockbusters but a martial art that is designed to emulate armoured combat in a way that allows you to deliver full powered blows without hurting your opponent.
Male and female fighters dress in armour, which ranges from full plate steel to padded doublets and leather, to protect them while wielding swords, spears, and axes made of rattan to simulate the balance and handling of original weapons, without the lethal qualities.
Two foundation courses are held annually, commencing at the start of each semester in March and July. The courses run approximately eight weeks, with classes at Ainslie Scout Hall, corner of Ebden St and Hassall St, Ainslie ACT 2602.
Classes are 2:30pm on Sundays.
The course overview notes can be found here.
Equipment
All the equipment for this course is supplied.
You are advised to wear clothing suitable for a training session that are comfortable and non restrictive.
You are encouraged to obtain your own groin protection.
Lesson Structure
Each session will run for an hour. Please ensure you arrive early to sign in.
Classes will begin with a brief review of the previous week's content.
Students are encouraged to practice at home or in their free time.
Certain sessions  (ie Workshops) may be extended or start earlier in the day.  Students will be advised via  the weekly email.