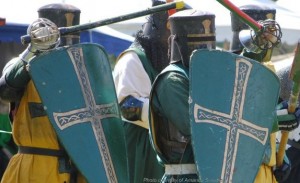 The SCA, or Society for Creative Anachronism Inc., is a non-profit, educational organisation whose aims include re-creating the arts and crafts of the pre-17th century  world.
We don't just read about history, we do it! At tournaments, feasts, classes and festivals the world over,  you can be part of a living history.
 Getting together, we put what we learn in practice from sewing, painting and cooking to fighting, archery or fencing. It's about having a great time, doing what we love.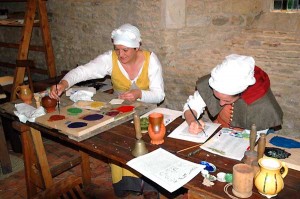 It's as much about recreation as re-creation – authenticity meets fun in the modern middle ages.  Many of our members aim to be as authentic as possible in as many ways as possible. Equally as many are content to be as authentic as required to give a medieval feel to things while having the best time possible. The choice is up to you.
 The only things required are that you at least make an attempt at pre 17th century historical clothing, try to avoid the look and feel of the modern world, and that you be polite to others while you are doing it. If you want to be a totally authentic person, fine. If you want to be a barely authentic party animal, fine as well.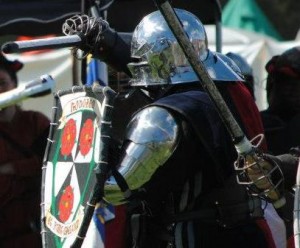 We have a dream, the dream of an ideal medieval world where the arts of war are practised without death or injury, and the crafts of peace are taught freely to all. A world of pageantry, where all can aspire to true nobility with chivalry and courtesy honoured above all.
Welcome to the Current Middle Ages. It is a journey full of learning and entertainment, and we hope to see you soon.