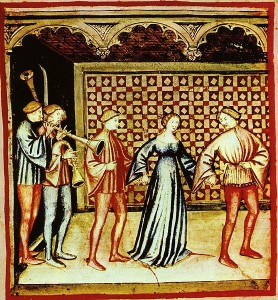 "If Music be the Food of Love, Play on!"  William Shakespeare.
Medieval music was an integral part of everyday life for the people of that time period. Music of the Middle Ages was especially popular during times of celebration and festivities.
Music was often played during holidays and special parties. During weddings and birthdays, the music was especially uplifting. For weddings and on Valentine's Day, lovers' music was played that was sure to evoke a romantic atmosphere. This type of music was called "chivaree."  The musicians would play buoyant and cheery music with crescendos. Many a different Medieval music instrument was played, including, recorders, horns, trumpets, whistles, bells, and drums.
You might find people singing or playing medieval musical at the regular Arts & Sciences sessions on Wednesday nights and Sunday afternoons at the Ainslie Hall.
Dance
Dance is very active in Politarchopolis with a weekly dance practice and the annual St Vitas Music & Dance Collegium. Dance in the SCA takes many different forms. From the courtly pavannes to bellydancing around a campfire and everything in between, dance can be many things for many people.  Primarily in Politarchopolis, we dance 15th, 16th and 17th century dances as earlier styles are harder if not impossible to document.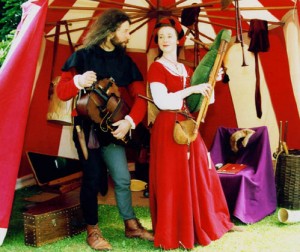 Dance Practice
Friday 7:30pm
13th Canberra Scout Hall,
corner of Hovea St and MacArthur Ave, O'Connor.
Turn left out of Hovea into Boronia Dr for the car park.
Contact Joanna of the Beechwoods [Joanna Keenan]  on 0409 578 680 for more information.