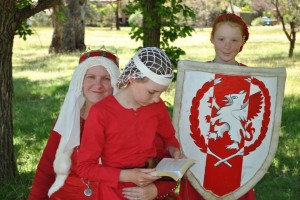 The Baron and Baroness of Politarchopolis offer greeting unto visitors and travellers in their lands. The people of our Barony are many, and their interests cover every aspect of the modern medieval world. Whatever you want to do or learn about, be it cooking, fencing, event managing, embroidery, archery, calligraphy, armouring, building furniture or piling up rocks…if you would like to do it in a medieval way, there is someone who can set you on the path. We are made richer by the contributions of each and every person in Politarchopolis, and will be glad to include you in their number.
If you come to us from other parts of the Known World, you also are welcome within our borders.
Whether your stay is for a day or for many years, we hope that when the time comes for moving on, you will bear with you many tales of good times and fast friends.
We bid you welcome, and trust that you will enjoy your time with us.
In service to Politarchopolis, to the Crown of Lochac and to the dream,
Master Crispin Sexi, Baron, and Dame Joan Sutton, Baroness.