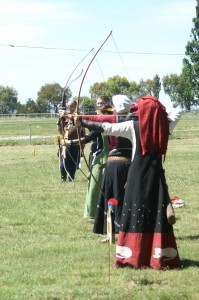 The Art of Archerie by Gervase Markham (1568-1637)
"Shooting is an art necessary for the knowledge of all sorts of men, useful both in peace and war. It is an honest pastime for the mind, and a wholesome exercise for the Body, not vile for great men to use, nor costly for poor men to maintain, not lurking in holes and corners, for ill men at their pleasure to misuse it, but still abiding in the open fight and face of the world, for good men (if it be any way faulty) by their wisdom to correct it."
From Agincourt to William Tell and Robin Hood, Archery is a fundamental part of the medieval world.  In Politarchopolis Archery is alive and well, the prowess of our archers in both war and target archery known throughout Lochac and the Known Worlde.
Archery Practice is Sundays from 10am to noon at the Tuggeranong Archery Club (TAC). Cost $10 to non-members of the TAC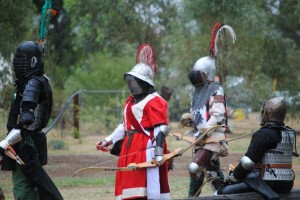 , normal range fees to members. This also includes Inter-Kingdom Archery Competition (IKAC). IKAC is held on the 1st Sunday of the month  and is garbed (historical costume is worn). Field Archery (a roving round) is held on the 3rd Sunday of the month.
Standard Schedule:
1st Sunday –  Town Archer – Garbed. IKAC, or other shoot as advised. (February to November).
2nd and 4th Sunday – General practice.
3rd Sunday – Field Archery.
5th Sunday – Novelty, SSAC or Practice
No-one has to compete or participate in shoots they don't like.
---
Combat Archery:
Combat Archery practice is run every other Saturday.
Check out the Politarchopolis Archers Facebook Group for more details.
---
For more general information, see the Lochac Archers page.