COMBINED PROGRAM – MUSIC AND DANCE STREAMS
SATURDAY
9:00 – 10:00 Pythagorean tuning – Crispin Sexi
Warm-ups with Amoroso and/or the Black Allemande –
Helouys le Poer
10:00 – 11:00 Beginner Recorder and Reading Music – Kiriel du Papillon
Gratiosa/s – Estelle Canning
11:00 – 12:00 Rounds – Ailis Inghean Mheadhbha
Spagnoletta – Alliette Delecourt
12:00 – 1:00 Dance Band Practice – Leon Arundell organising
Newcastle – Brian le faucheeur
1:00 – 2:00 LUNCH
2:00 – 3:00 Pipe and Tabor – Leon Arundell
Good Manners according to Four 16th Century Dancing
Masters – Joanna of the Beechwoods
3:00 – 4:00 The Viheula – Jehan
An Arc of Fine Dances—2 Domenico, 2 Chigi and 2 Arbeau
– John Garden
4:00 – 5:00 Musical Instrument Show and Tell with 3D printed period
instruments – Paul de la Ville.
Continuing An Arc of Fine Dances
6:00 Feast, followed by a Ball
SUNDAY
10:00 – 11:30 Red Book of Monserrat Voice and Instrumental Jam
Session – Annabel deSwinburne
Gloria D'Amore – Joanna of the Beechwoods
11:30 – 1:00 Writing four-part harmony using Campion's method
– Crispin Sexi
Parsons Farwell & Variations for Rostbolli Gioso – Alliette
Delecourt
1:00 – 2:00 LUNCH
2:00 -3:00 Discussion of now and future music and dance events.
Good afternoon everyone
The fundraising raffle today was drawn at 5pm by their Excellencies, Crispin and Joan.
Results:
1st prize, ticket #44  Clem Avenell won the breast plate
2nd prize, ticket #42 Sally Avenell won the shield painted
3rd prize, ticket #101 Cathy Skippington won the silk banner
Big thanks to all involved who helped sell tickets and particularly Baroness Alesia for all her hard work coordinating as well as painting the banner.  Thanks also to Lord Gabriel and Sir Kitan for their donation of their time and efforts in crafting the shield and the breast plate.
The raffle has raised $700 for the Barony so well done everyone who assisted.
in service
Anne
Offices currently vacant include – Arts & Sciences, Herald, Chronicler, Webwright & Chandler.
Ever thought about being an Officer of the Barony – WE NEED YOU!
Currently the offices of Herald, Arts & Sciences, Chronicler and Webwright are currently vacant and we are keen to find fabulous individuals to fill those roles. What's in it for you, I hear you ask? It's a chance to meet a whole bunch of people, share your ideas and inspirations, promote excellence in a particular field and just have a go. You are supported by your Kingdom Officer (and their network of people across Lochac), your friendly local seneschal and other baronial officers as well as their Excellencies, the Baron & Baroness. Most offices will only take a couple of hours a week at maximum (and not all the time).
If you are interested in learning more, please email seneschal.polit@gmail.com, letting me know which office you are interested in applying for. If you think this sounds awesome and you want to apply, please email the appropriate Kingdom Officer (http://lochac.sca.org/lochac/regnum/index.html) stating your interest and any relevant skills/experience, ccing your local friendly seneschal (seneschal.polit@gmail.com).
Being an officer in the SCA is a great way to learn, contribute and meet people.
We'd love to have you on the team!
Officer Positions – Answers to questions I've received (as I figure this might be good general information.
Q:Are there already preferred applicants for the roles?
A: Nope, every application is taken on its merits, discussed with the relevant kingdom officer and the Baron & Baroness.
Q: Have you received any applications so far?
A: Yep, one for webwright (however they would like a short term to mentor somebody in the role so this would be a temp fix) and one for chandler.
Q: I don't have much experience – can I apply?
A: Depending on the office, experience can help but they can also be an amazing opportunity to learn and we can discuss what supports that may be available.
The Hall will be open from 2pm today for project work. Heavy combat and Rapier will also run. See you there!
Good evening gentles.
As you are all no doubt aware two weeks ago I put in a call for expressions of interest regarding the role of Seneschal of Politarchopolis as I was planning to step down.
It is my pleasure to announce that Lady Anne de Tournai has been provisionally chosen to be the new Seneschal.
As of today there begins a two week commentary period in which members of the populace may email myself at seneschal.polit@gmail.com or the Kingdom Seneschal at seneschal@lochac.org.au with any comments or concerns you may have.
At the end of that period, unless any insurmountable issues arise the office will pass shortly thereafter at a suitable event.
Warm regards
Semyon
Seneschal
Overall, the new site seems to be a success. The weather was clement, and cold enough to enjoy wearing proper garb. No rain, and one windy afternoon which saw a few tents in need of rescue. There will be more toilets next year, and the map will doubtless be tweaked so that everyone has the space they need.
Three knightings – our own Sir Niall among them.
One new laurel – Elena le Bruestere from Innilgard.
No new pelicans.
The War Procession went off very well, with an excellent show from each contingent. The Royal Seer made a dramatic appearance, in order to prevent excessive bloodshed.
We won the Olympiad. There were various games – fencing (won for us by Don Galbraith, provided by
Northern Reaches), archery (won for us by Sigmund Spelman), running in armour (won for us by Draco), running unarmoured (lost, but a fine run by Claire from Descartes), shotput (won by a full metre for us, by Redfox from Okewaite)), javelin (Alex MacAlpin, in fine form and beaten by only about six inches), tug-of-war (won decisively by Descartes) and discus. Apologies, I can't remember who the discus thrower was. From Innilgard maybe?
The war scenarios pitted Greeks against Persians. We fought bravely as the Persians, but the Greeks had the victory by a narrow margin.
Rowany was declared the overall winner, and the King made peace between the warring Barons.
There was a forge on site where a number of people learned some smithing and came home with useful things they had made. There were lots of classes on all sorts of topics – what did you learn?
Greesispoone fed many people and was much appreciated.
There was a LOT of fencing. Robin of Ambledune won the Newcomer's Tourney. Ceara was awarded the prize for her chivalry and enthusiasm in the Baronesses' Rapier Tourney.
Our archers did well (of course). Isobel le Bretoun won the Period Division. For the first time, we undertook archery during court, and (fortunately?) both Barons missed the herald. Baron Crispin shot a pavilion, Baron Loyola shot a chair, and in the end both shot gold. Loyola's gold was shinier than Crispin's, and so the Royal force joined Rowany for the Olympiad and wargames. 
We had combat archers! Hopefully there will be even more next year, as there were a number of people who were not quite ready this time.
Andronicus is no longer incipient, but is now a full College.
The Baronial Brunch seemed to go down well. Accipiter, Whyte Company, Burbage and Aldhelm members all helped with preparation and cooking, keeping the pancakes coming despite the breeze which kept trying to interfere. Many others came to feast and socialise. Thanks to all who joined us for the morning, and we hope to see even more of you next year.
Our college members (both Andronicus and Aldhelm) were complimented many times for their courtesy towards other members of the populace, in fetching and carrying, babysitting, minding the troll tent, heralding and more. They were also prominent in assisting us throughout the event.
Our first Festival as B&B has been rewarding as well as busy. We offer congratulations to all who had success in their endeavours, and thanks to all who helped us in ways small and large. We hope you all had at least as much fun as we did, and are already planning for next year…because Festival is only two weeks away!
Regards,
Joan and Crispin.
6.30pm – 8.30pm
Cost: Gold coin donation to hall costs (Non members pay $5 for insurance in addition)
Bring: Good sense of humour and maybe some snacks/a drink
Program is open to suggestions, but the current plan is;
Dancing:
Revision of Known World Pacane and the Black Allemande.
New – the Official Bransle and another Bransle if we have the time
Singing: Tavern song and a round
Performance: we are currently open to suggestions!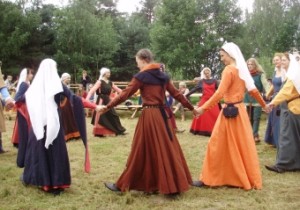 Hello everyone!
A few A&S updates 
Firstly, there is an extra class being run this weekend. Rachel will be hosting a class at 1pm: Entering A&S Competitions for beginners. Should be a great class for people to learn some of the ropes and get up the confidence to enter.
Secondly, Helouys and Lady Emeline are going to hosting a series of focused dance workshops to get people festival dance ready and working towards their Silver Rondels. The sessions will start on Sunday the 15th of March, go from 12.30 – 2pm, and run for 5 consecutive weeks. These classes are for both beginners and those who need to brush up on their skills. The last session will be the Sunday before Festival so it should be fairly fresh in everyone's minds and it will be a mini garbed ball so that beginners can get used to dancing in skirts and slippery shoes.I've added each of the sessions to the class list below. Remember: dance is lots of fun and great exercise. Come join in!
Don't forget on Wednesday evening we have a class on Identifying Fabrics and on Friday we have Courtly Graces. Sunday includes brewing with Rurik (please give me a yell if you want to get involved) and A&S competition introduction by Rachel.
Lastly, I need a little help with banners. If anyone can lend a hand hemming on Wednesday or Sunday I would be beyond appreciative.
……..
26th Feb – Wednesday 7.45pm – Fabric Identification
28th Feb – Friday 6.30pm – Courtly Graces
2nd Mar – Sunday 12noon – Brewing with Rurik
(booking required for practical, cost TBA)
2nd Mar – Sunday 1pm – Entering A&S Competitions for Beginners
5th Mar – Wednesday 7.45pm – Easy potluck plates
and simple period dishes
12th Mar – Wednesday 7.45pm – Ye olde wattle
bottle covers (gold coin donation for fabric)
15th Mar – Sunday 12.30pm – Dance Session 1, Cassandra and the Knowne World Pavane
19th Mar – Wednesday 7.45pm – Intro to blackwork
embroidery styles and stitches
23rd Mar – Sunday 12noon – Workshop, Make your
own weapon rack (bookings required for practical, cost $35)
23rd Mar – Sunday 12.30pm – Dance Session 2, Pinagay and the Black Allemand
26th Mar – Wednesday 7.45pm – Basic history and
styles of period beadwork
30 Mar – Sunday 12.30pm – Dance Session 3, Ruffty Tufty
2nd Apr – Wednesday 7.45pm – A class on period
plays
6th Apr – Sunday 12.30pm – Dance Session 4, Review
9th Apr – Wednesday 7.45pm – Designing and
registering your coat of arms
13th Apr – Sunday 12.30pm – Dance Session 5, Mini Garbed Ball
30th Apr – Wednesday 7.45pm – Event Feasts
7th May – Wednesday 7.45pm – Period Toys and
Games
In Service
Sophia
It's the day when Canberra comes out to play so we thought we'd join in!  It's always great to get out to promote the game we love even it was a little bit warm!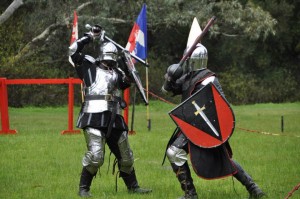 Few activities can match the colour, romance, and excitement of the medieval tournament of chivalry. Knights and Squires, Lords and Ladies compete with one another in displays of prowess and honour.
The Beginner's Combat Course aims to introduce the fundamental principles and techniques of tournament combat, construction of swords and shields along with some of the etiquette and culture of SCA tournaments.
The next course begins Wednesday 19 February 2013  
Venue – Ainslie Scout Hall, corner of Ebden St and Hassall St, AINSLIE.
Cost $20+ weekly Insurance $5 or SCA membership.
Classes are at 6:30pm on Wednesdays with a repeat class Sunday at 2:30pm
All equipment is supplied