The SCA in Australia
The Society for Creative Anachronism was founded in California in the 1960s, and rapidly expanded across the USA. The first Australian SCA group was the Barony of Outrémer, based in Sydney, which joined the wider SCA in 1981, having previously been an independent group called the Kingdom of Cumberland. In 1983, the Barony of Outrémer (renamed 'Barony of Rowany') and a small number of other Australian groups officially became part of the Kingdom of the West, as a Principality called Lochac.
Lochac continued to grow, expanding north into Queensland, south to the ACT, Victoria, and Tasmania, and west all the way to Perth. In 2002, we separated from the Kingdom of the West and became an independent kingdom, still called Lochac. In 2003, the existing SCA groups in New Zealand moved from the Kingdom of Caid to join us as part of Lochac. You can read more about our history as a principality and a kingdom:
or take a look at a recent map of Lochac and its local groups.
History of Politarchopolis
The group now called the Barony of Politarchopolis was founded in 1984, then named 'The Shire of Politikopolis'. In the SCA, a Shire is an independent local group within a kingdom, and many later become baronies as they grow. Politikopolis, however, remained a shire for over a decade as we debated the kind of group we wanted to become. By the time the Barony of Politarchopolis was inaugurated in 1995, we were the largest group in Lochac, with over a hundred active members. Read more about our early days.
---
Our Barons & Baronesses
These are the Barons and Baronesses who have lead the Barony of Politarchopolis:
Stephen Aldred and Mathilde Adycote of Mynheniot, first Baron and Baroness of Politarchopolis.
(Photo taken at 12th Night in Politarchopolis in 1997 by John of the Hills.)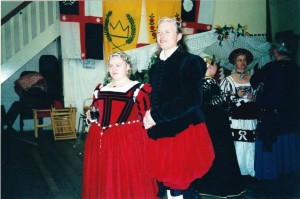 François Henri Guyon and Aelfthrythe of Saxony, second Baron and Baroness of Politarchopolis.
(Photo courtesy of Aelfthrythe.)
Baroness Mistress Leta von Goslar and Baron Edmund Ale-conner, third Baron and Baroness.
(Photo courtesy of Alexandra Hartshorne)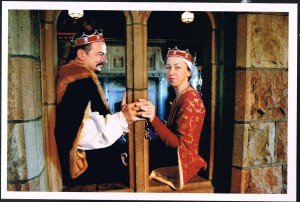 Alessandro von Florenz and Isobel le Bretoun, fourth Baron and Baroness of Politarchopolis.
(Photo courtesy of Alessandro.)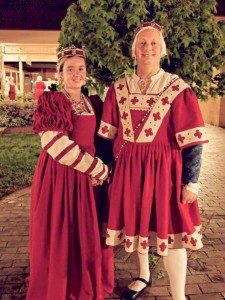 Aonghus mac Griogair mhic Raghnaill and Ginevra Lucia di Namoraza, fifth Baron and Baroness of Politarchopolis.
(This is a photo of them at their investiture, courtesy of Ginevra.)
Crispin Sexi and Joan Sutton, sixth Baron and Baroness of Politarchopolis.
(This is a photo of them after their investiture in November 2013 by Sophia van Dorne)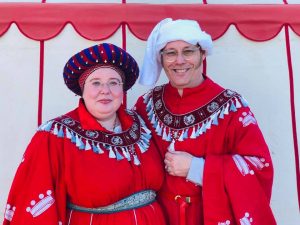 Giles Leabrook and Anne de Tournai, seventh Baron and Baroness of Politarchopolis.
(This is a photo of them after their investiture in December 2018 by Brooke Perkins)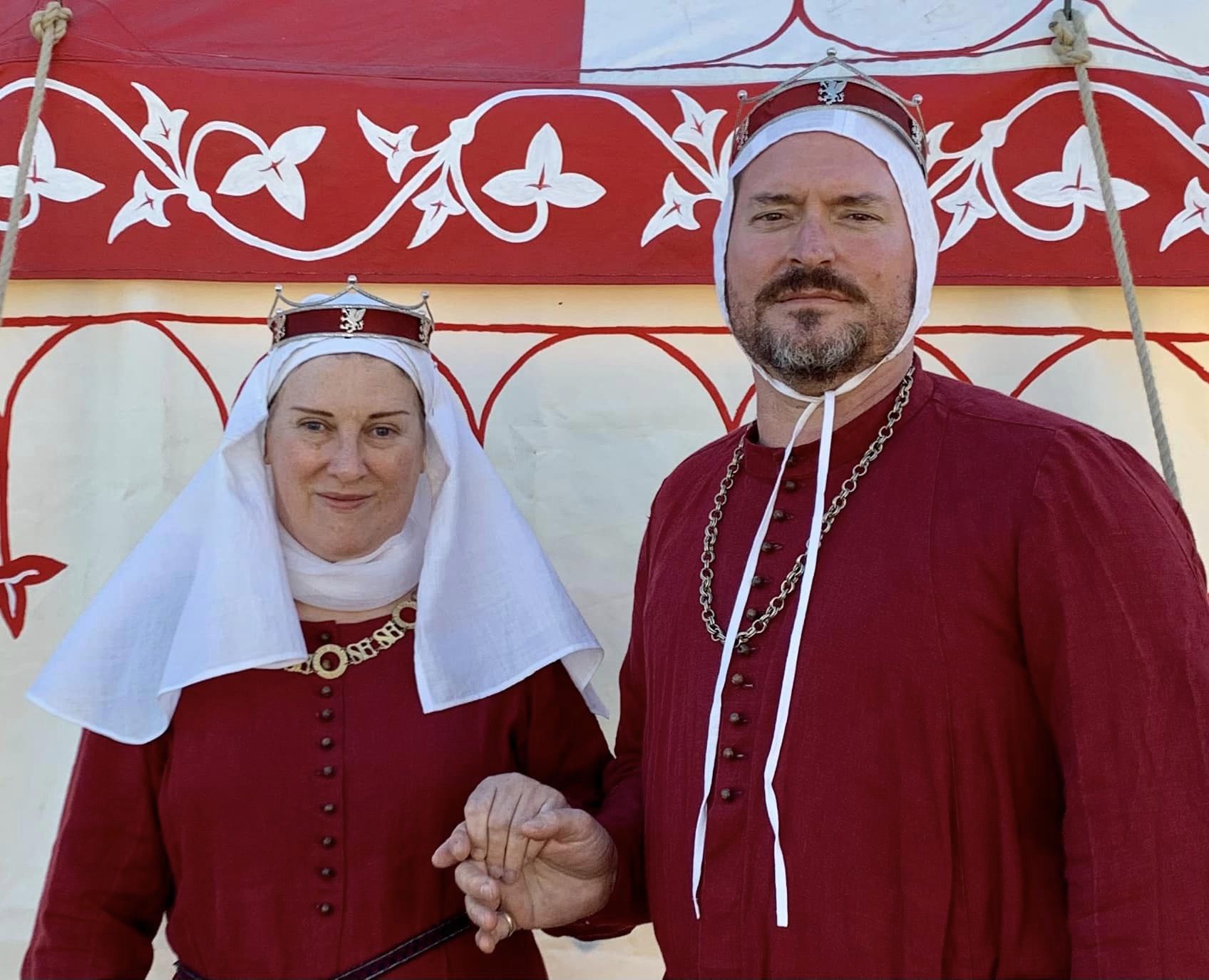 Ysambart Courtain and Joie Tigre d'Argentona, eigth Baron and Baroness of Politarchopolis.
(Photo taken at Rowany Festival April 2023 and provided by Joie Tigre)