Hello Politarchopolis.
This will be a fairly long missive so let's begin with the housekeeping, namely the minutes from the last Officer's meeting.
We discussed setting a more regular meeting date and it has been decided that we will look at either 4 or 6 weekly meetings, probably on a Sunday afternoon before training and A&S. The Wednesday evening meetings have too much potential for conflicting with other hall users and we have the hall from Midday on a Sunday so there's no real reason for not having it then. A final decision will be made at the next officers meeting and you will all be updated then.
Speaking of which the next officers meeting will be held on Sunday the 16th of Feb 2014, it was decided that due to the Christmas/New Year break a January meeting was probably pointless.
It was decided to have a Baronial planning day on January the 5th 2014 at the park next to the hall. This is an informal, picnic lunch and discussion hosted by myself and facilitated by Anne de Tournais. Essentially bring a blanket or chairs, whatever food and drink you'd like and we'll sit around for an hour or so and talk about the barony and where we'd all like it to go. Everyone will have the same ability to talk about issues or ideas and I am sincerely hoping everyone will attend!
Finally, after a deal of research and a lot of thought it has been decided that the fee structure for the use of the Hall will change as of the 1st of January 2014. At present we pay $60 for a year. It has been decided that this will change to $30 a quarter OR $100 a year if paid up front. What this allows is access and use of the hall every Wednesday and Sunday, within the hours we hire it for. This also allows access to the storage room, use of the kitchen, toilets and as they become available other rooms within the facility. The decision to up the price wasn't taken lightly and we are working hard to ensure that activities and facilities will be worthy of the fee.
Please note that people who do not pay the hall fee as above will still be required to pay a fee per attendance to cover the insurance. As you can see if you a regular hall user your $30 a quarter is far cheaper than paying on an ongoing basis.
As an offshoot from this, a reminder that everyone who attends and does ANY SCA type activity in the hall or in the park is required to sign the site waiver. Tyg and Wendy have been working hard to ensure all people are signing and if needed paying but it is also the responsibility of people attending to ensure they are complying with the rules. Failure to do so will result in either myself or the steward of the event asking you to leave. Stewards have a delegation from the Seneschal to exercise those powers and they will do so. This is for the benefit of the group as a whole and as the Seneschal it falls on me if something goes wrong. I would rather everyone be covered and protected.
As you may be aware there is new legislation in effect regarding the preparation of food for sale and the requirements of those people doing so. I am currently examining this and am seeking advice from the ACT government as to what we would be required to do in order to comply. I am hoping to have an answer very shortly. In the meantime I would like to ask for people who might be interested in being trained in the relevant skills and performing such a role within the group to please contact me at the seneschal's email address.
Also I would encourage any member of the populace who teaches, whether it is fighting, archery or A&S to apply for their working with vulnerable people checks. It's free and easy to do. At the moment I have received advice that we are exempt as we fall under the sporting groups' classification. This however ends in November 2014 and we are going to have to comply with the legislation if we want to be able to run activities where children want to participate. Again contact me if you have any questions!
The schedule for next year is already looking wonderful. We have in no particular order 12th night, Valentines*, Border War, Canterbury Fair, Rowany Festival, St Vitus*, Midwinter Coronation*, GSG, GNW, Midwinter at the Manor*, The Polit A&S collegium*, Spring War, Fields of Gold* not to0 mention 2 Crown tourneys and another Coronation! Those events with asterisks next to them at held here in Polit and all of them promise to be fantastic. If any of you want to help the stewards for them in any way I am sure they would relish the assistance.
This New Year is also going to be replete with trainings, arts and sciences and gatherings at the Baronial level and I for one am looking forward to seeing many of you at them.
As a last piece of business let it be known that the following Officers positions are available. Chandler, Chirurgeoun, Lists and Webwright. Also in the New Year it is likely that the Marshall, Chronicler and A&S officers' positions will become vacant. Any expressions of interest in these roles may in the first instance be sent to me and I will forward them on to the relevant Kingdom Officers with copies to the Baron and Baroness.
In closing, from myself and the rest of the Baronial officers I want to wish you all a very Merry Christmas and a safe and prosperous New Year. As always I am available via email or phone should anyone wish to discuss anything, please be advised that I won't take phone calls after 9pm.
Yours in Service
Semyon Drakon
Seneschal
Seneschal.polit@gmail.com
 Baron Crispin and Baroness Joan offer greetings unto their noble and gentle populace of Politarchopolis, wishing that all are kept in good spirits and rude health.
 Of first importance, thanks again to all those who made Fields of Gold the fabulous extravaganza that it was, and who helped us in both large and small ways as we took on the role of being your Baron and Baroness. We are very proud to be here, and hope the Barony will prosper even more than usual during our reign!
 A town meeting has been scheduled for soon after Christmas. The purpose of this meeting (beyond socialising!) is to create a forum for ideas from all members of the Barony, and to assist bot h us and the Officers in planning for the coming year. We aim to help you get more of what you want out of the Society, and with so many different interests and opinions, that takes planning. And participation.
 So, if you have an event idea, if you want to run an event, cook for an event, clean privies at an event…come along. If you want to catch up with people you aren't necessarily related to, after the family holiday, come along. If you want a say in the shape of future meetings, training sessions, competitons, etcetera…come along! And if you think you might like to take on an officer role, but just need a bit of encouragement, please come along. 😉
 The meeting is planned for Sunday, 5th January, at the Ainslie hall. Please come and join the fun!
 After the Town Meeting, the next items in our official calendar are Twelfth Night in Okewaite, followed by Valentine's. His Excellency will be travelling to Border War in February. We hope many of you will also be able to enjoy these events.
 Those who attended Yule may have heard talk of our consultation with the Oracle. In her wisdom, she has delivered us a riddle of oaks and rowan trees. We believe we understand her meaning, and intend to make a show of strength at 12th Night. We expect the matter to escalate from there. 🙂
 In service, this seventeenth day of December,
 Joan and Crispin.
Greetings unto the Populace,
With the New year approaching soon the Baronial Rapier Championship will be held on the 11th day of May along side the New Years/Mothers day Feast.
The feast will be a midday buffet feast run by Lady Helouys Le Poer, helpers will be walking around with food on trays and the Rapier Championship. The tournament with a short break in the middle with entertainment.
Details:
1200: Site and lists open.
1230: Food served.
1300: Court then Tourney.
1430: Small play.
1500: Tourney re-commences.
1600: Closing Court.
Specific Tournament info: Round Robin any item off hand defense.
Site Location: Ainslie Hall, Ebden Street
Event cost: Members $15
Non-Members $20
Children $10
Non-Member Children $15
The Steward, Lord Paidin MacLorkan asks that if there are any members of the populace that are able to assist for the event could they please contact him on devilwuvangel@gmail.com as soon as you can.
Bookings can be sent to devilwuvangel@gmail.com
Greetings to the populace!
This year seems to be going by very quick and we've enjoyed some great events including the Feast of St Valentine and Festival.
We are looking forward to the rest of the events coming up this year, at least one a month! Our new coronets should be on their way to being made soon and we are very happy with how the barony and its colleges are faring.
Politarchopolis seems to be thriving at the moment which is fantastic to see. Many people have been putting in much hard work and if you have seen someone do so, please recommend them and their actions to us at Politarchopolis@lochac.net. A full list of available awards is available here.
Yours in service
Aonghus and Ginevra
Baron and Baroness
Results are now available for the first round of the 2013 Politarchopolis Pentathalon (10 March 2013)  – a big congratulations to the Descartes Specials who took out first place!
Points for the team were as follows:
La Cocinara Locas – 135
Team Andronicus – 135
Burbage – 132
The Three Amigos – 121
Descartes Specials – 153
Rouge et Valois – 143
Sew & Swear – 146
House of Hurts – 97
Huge congratulations to all who worked to create their projects.  With entries ranging from hand made sugar, candles, soap, inks, sauces, wines, pickles and pottery, Politarchopolis should be very proud of the knowledge and creativity of its populace.  Some of the teams are sharing their progress along the way.  You can keep in touch with the progress of the Three Amigos here.
Entries for Round 2 of Pentathalon are due on the 19th of May 2013.
Hello Polit!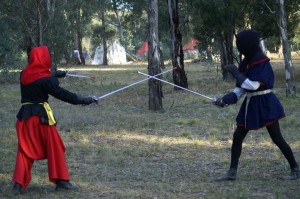 It is wonderful to see so much happening in the Barony at present!
I just want to mention a few things happening around the place. Firstly, as has been advertised the annual hall hire fee has been increased slightly to reflect the cost of our   new hall in Ebden Street, Ainslie. Individuals 16 years and over will be paying $60 a year. This allows use of the hall whenever it is open and covers insurance and hall hire for members. The $5 insurance levy for non-members continues as is. Additionally we are introducing a family rate. This will cover families consisting of two adults and one child between the ages of 5 and 16. Any other children between 5 and 16 in that family are free. As you can gather, children under 5 are free. Fee's can be paid at the hall in cash or you can find the details to make the payment electronically on the Reeve's page.
I am also undertaking research to enable SCA Politarchopolis to be registered as an association within the ACT. There are several benefits to this, one of the most important being gaining the ability to apply for government grants to support our activities.
Valentines feast was a roaring success with lots of good reports coming out of it, many thanks to the stewarding team for the night.  Coming up we have the Baronial Rapier Championship in May and the Politarchopolis Arts & Sciences Collegia in August.  Proposed events (event details still to be finalised) include Event in Box (June) Midwinter at the Manor (July), St Vitas Dance Weekend (September), the Baronial Heavy Combat Championship Tournament (October) and Fields of Gold towards the end of the year.
As always I invite members of the populace interested in running events to talk to me about them. All ideas are welcome and my door (or phone) is always open.
Best wishes
Semyon