6.30pm – 8.30pm
Cost: Gold coin donation to hall costs (Non members pay $5 for insurance in addition)
Bring: Good sense of humour and maybe some snacks/a drink
Program is open to suggestions, but the current plan is;
Dancing:
Revision of Known World Pacane and the Black Allemande.
New – the Official Bransle and another Bransle if we have the time
Singing: Tavern song and a round
Performance: we are currently open to suggestions!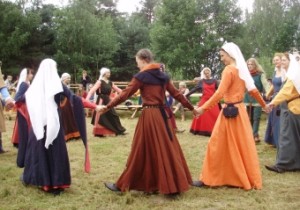 Hello everyone!
A few A&S updates 
Firstly, there is an extra class being run this weekend. Rachel will be hosting a class at 1pm: Entering A&S Competitions for beginners. Should be a great class for people to learn some of the ropes and get up the confidence to enter.
Secondly, Helouys and Lady Emeline are going to hosting a series of focused dance workshops to get people festival dance ready and working towards their Silver Rondels. The sessions will start on Sunday the 15th of March, go from 12.30 – 2pm, and run for 5 consecutive weeks. These classes are for both beginners and those who need to brush up on their skills. The last session will be the Sunday before Festival so it should be fairly fresh in everyone's minds and it will be a mini garbed ball so that beginners can get used to dancing in skirts and slippery shoes.I've added each of the sessions to the class list below. Remember: dance is lots of fun and great exercise. Come join in!
Don't forget on Wednesday evening we have a class on Identifying Fabrics and on Friday we have Courtly Graces. Sunday includes brewing with Rurik (please give me a yell if you want to get involved) and A&S competition introduction by Rachel.
Lastly, I need a little help with banners. If anyone can lend a hand hemming on Wednesday or Sunday I would be beyond appreciative.
……..
26th Feb – Wednesday 7.45pm – Fabric Identification
28th Feb – Friday 6.30pm – Courtly Graces
2nd Mar – Sunday 12noon – Brewing with Rurik
(booking required for practical, cost TBA)
2nd Mar – Sunday 1pm – Entering A&S Competitions for Beginners
5th Mar – Wednesday 7.45pm – Easy potluck plates
and simple period dishes
12th Mar – Wednesday 7.45pm – Ye olde wattle
bottle covers (gold coin donation for fabric)
15th Mar – Sunday 12.30pm – Dance Session 1, Cassandra and the Knowne World Pavane
19th Mar – Wednesday 7.45pm – Intro to blackwork
embroidery styles and stitches
23rd Mar – Sunday 12noon – Workshop, Make your
own weapon rack (bookings required for practical, cost $35)
23rd Mar – Sunday 12.30pm – Dance Session 2, Pinagay and the Black Allemand
26th Mar – Wednesday 7.45pm – Basic history and
styles of period beadwork
30 Mar – Sunday 12.30pm – Dance Session 3, Ruffty Tufty
2nd Apr – Wednesday 7.45pm – A class on period
plays
6th Apr – Sunday 12.30pm – Dance Session 4, Review
9th Apr – Wednesday 7.45pm – Designing and
registering your coat of arms
13th Apr – Sunday 12.30pm – Dance Session 5, Mini Garbed Ball
30th Apr – Wednesday 7.45pm – Event Feasts
7th May – Wednesday 7.45pm – Period Toys and
Games
In Service
Sophia
I have just updated the Roll of Arms as far as I am able. This pretty much means that I've added our awards from Valentines', and a few out of an old post I discovered from Ginevra.
Obviously this still leaves enormous gaps in the record. We've decided it may be useful to put out a call, for you all to look at the existing list and see if you can help to fill those gaps.
If your name is incorrect, that's an easy fix. Send us an email.
If you are sure you have received a certain award, but are not listed, we will need as much info as possible. Give us your name, the current B&B, Herald's name, event and date – as many of these as you can fill in. We will attempt to cross-check your memory with the appropriate herald and B&B, and hopefully our roll of arms for the last decade will look much less ragged.
Fingers crossed!
Joan.
It's the day when Canberra comes out to play so we thought we'd join in!  It's always great to get out to promote the game we love even it was a little bit warm!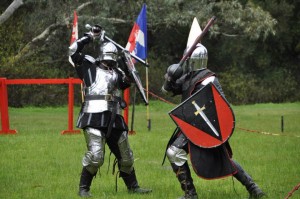 Few activities can match the colour, romance, and excitement of the medieval tournament of chivalry. Knights and Squires, Lords and Ladies compete with one another in displays of prowess and honour.
The Beginner's Combat Course aims to introduce the fundamental principles and techniques of tournament combat, construction of swords and shields along with some of the etiquette and culture of SCA tournaments.
The next course begins Wednesday 19 February 2013  
Venue – Ainslie Scout Hall, corner of Ebden St and Hassall St, AINSLIE.
Cost $20+ weekly Insurance $5 or SCA membership.
Classes are at 6:30pm on Wednesdays with a repeat class Sunday at 2:30pm
All equipment is supplied
Welcome those new to our society  at the Politarchopolis Newcomers feast
When: 8th of March
Where: Ainslie Scout Hall – Cnr of Hassall and Edben St Ainslie
Cost
Newcomers (First event) – $10
Members – $15
Non Members – $18
Activities in the park start at 1 with the hall opening at 4 and the first course around 6.30
Details of the heavy and fencing tournaments to be announced
Booking contact Adam the Renegade via Email: tourist48@hotmail.com or after hours on 0400 299 760
Hope to see lots of you there!
Good evening,
a reminder that the Baronial meeting will run between 2 and 3pm on Sunday afternoon at the Ainslie Scout Hall on Ebden/Hassall Streets.  Hall usage, fundraising, officer duties and newcomers groups are due to report back with proposals for final reporting as well as standard officer updates.
Posted on behalf of Seymon, Seneschal
Firstly, this weeks class on Burgundian Fashion has been cancelled due to the teacher having a clash of schedules. Due to this, we will be working on silk banners instead for the barony. If you would like to be involved, please come along, it's free for engine to join in! Otherwise, there will be plenty of space for personal projects. If anyone has any 1m by 1m silk frames they could bring along, that would be grand.
The weekend we have two surprise session being held!
Sunday – 12noon – Tunics 101
Going to border war in a few weeks? Need extra tunics for festival? Just need some garb? Libby is going to be teaching a class on Tunic creation. We'll have sewing machines available, all you need to bring is 5m of fabric (Lincraft has a 50% off fabric sale at the moment, look for home spun cotton as a cheap option) and some matching coloured thread.
Sunday – 3pm – Brewing for festival with Rurik.
One of the aims of the Lochac Brewers guild is to enhance individuals experience of the SCA through beverages. As such in the lead up to festival I am going to be running two brewing days on  at Sunday gathering so that people can learn some basic brewing skills, have a product to take home and ferment it for festival.
The first of these sessions will be on Sunday at The Ainslie Hall and we shall be making HYDROMEL AS I MADE IT WEAK FOR THE QUEEN MOTHER from Digby. This is a small hydromel (a variation of mead) that is about 2% ABV with strong over tones of ginger. It is a refreshing drink that is suitable for festival as a day drink.
The cost for the class is free. However four people (will be able to take home a cube (22.5L or about 25 long necks) of must (unfermented wine) to ferment and bottle/keg at home for the cost of $17. To do this people will need to bring a container suitable for transporting 22.5l of hot must home in.
Next weeks class session on Wednesday is empty so far, would people like a hood making session before Festival?
Any questions, please let me know. Ideas for a class? Give me a buzz

Manda
It's all fayre in love and warre!  This Valentine's (15th of February) join us for a day of tournament and feasting!
Will Aphrodite or Ares prove victorious?  You be the judge!
Minor update from the December 2013 version.