Greetings to all from Baron Crispin.
We were present at Coronation to witness the end of the Mongol empire and celebrate the beginning of the Tudor reign of King Steffan and Queen Branwen. As the Good King Steffan decreed, the coming 6 months will be ones of peace, joy and good fun.
With this in mind, I shall journey to Radburne this 7th to 9th of August to partake in as much peace, joy and jolly good fun that war can offer. I encourage all who appreciate such simple pleasures to join with me for a spot of clashing and pillaging on the battlefield.
Further details here:
http://radburne.lochac.sca.org/?p=919
Good cheer!
– Baron Crispin
Be it known that on Saturday evening at Bal d'Argent, the mighty Khan and the gracious Yeke Khatun did accept the petition of the citizens of Torlyon for aid and succor in guarding their borders and did grant their wish to join the Barony of Politarchopolis as its newest Canton.
We gladly accepted the decree of the Crown and gifted the newest members of the Barony with candles to light their way so that all will know the way home to a protective hearth.
So please join us in welcoming the newest citizens of Politarchopolis, the residents of the Canton of Torlyon.
Baron Crispin and Baroness Joan
Occasionally, you open your emails and there is a message that reminds you exactly why we participate in community events (apart from the fact we're proud to be part of the Canberra community).
"Milady
Could you please convey the following message to the good gentles who organised and attended today?
"Thank you for organising the medieval festival.  I loved watching the knights fight.  I loved all the people in beautiful clothes.  Everybody was really friendly and knew a lot about history.
I liked the juggling too.  I liked having a picture taken.
Thank you so much for all the hard work making it!"
Warmest Regards
Sebastian (5 years) (& Laura)"
Greetings All,
A reminder that on Monday Politarchopolis is helping the Museum of Australian Democracy put on their Magna Carta celebration at Old Parliament House.
We have a bunch of activities to run and need as many helpers as possible to provide colour and ambience:
* Display tables for calligraphy, textiles, lifestyle and craft.
* Heavy Combat
* Rapier Combat
* Armour, archery and pottery display
* Dancing
* Dress-up photos (supervised)
* Skittles, juggling and boffa
* Just being cheerfully medieval and directing people to the various activities.
Tomorrow at Ainslie Scout Hall we will be preparing for the demo, and then from 4pm we'll be at Old Parliament House setting up (so that there's less to do in the morning).
So: If you have things for the displays, clothes for dress-ups, benches/chairs for outside, plastic fruit (for Rowan's display), please bring them to the hall from 1pm. Please make sure items are labelled or we otherwise have a record of to whom each item belongs!
On Monday the action starts at 9am for orientation and final set up. The activities run from 10am up until the closing procession at 3pm.
Joan and I are providing snacks for SCAers in the "Green Room" (actually red), but people will need to sort out their own lunches. There are two cafes running, but I'd suggest BYO lunch.
Note that we're not allowed to take food throughout the building and that we need to take care not to damage this heritage-listed building. Trolleys are available at he loading docks around the back for carting armour bags and other bulky equipment.
Thanks to everyone who has volunteered so far! If you have not done so yet, click this link to let Anne know how and when you can help:
http://goo.gl/forms/SQHy6xqloc
See you all there – this is going to be a fantastic day!
– Baron Crispin
Greetings all,
We've heard news that Stormhold and Innilgard have made peace with one another, and have decided to band together with Aneala and the northern forces to do war against the Khan.
Having only recently been invaded ourselves, we shall support our new overlords. It seems unusual, but for once we will be teaming up with Rowany and Mordenvale to defend the Khan's holdings.
On Thursday at Festival after opening court we call upon combatants and supporters to join us in the war procession as the sides are officially announced. We shall be bringing tabards and banners for the procession. We'll also have some Polit warshields for those that wish to borrow them on the warfield.
There are three half-days of war this Festival (Friday, Sunday and Monday). Please let Crispin know if you will be fighting with Politarchopolis so that he can tally up the heavies and archers.
On a more peaceful and delicious note, make sure to come along to Polit Central campsite for Sunday breakfast pancakes!
See you there!
Baron Crispin and Baroness Joan
The fighters
Baron Aonghus receiving a tassel for winning the Tourney.
Lord Lorcan receiving a tassel for winning the Fencing Tourney
Fencing Tourney
Other pictures from the day:
Congratulations to all those who have recently worked very hard to authorise.
We have:
Fencing
– Wolfgang
Combat Archery
– Eyfura
-Havelok
Heavy Combat
– Cosimo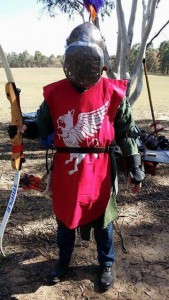 Havelok who also received his AOA.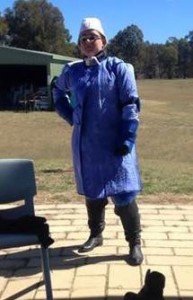 Eyfura, madly keen on combat archery
Wolfgang who not only authorised Fencing, but did so as a SCA youth.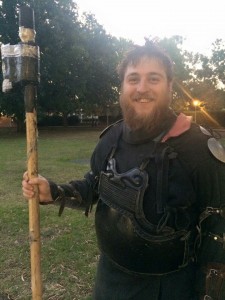 Cosimo enjoying Wednesday night practices.
Fellow Politarchopolans,
By now you might be aware, the news from Saturday's war against the Mongol hordes is twofold:
Firstly I regret to say that our loyal forces were bested on the battlefield. Enthusiastic and courageous, our army rained arrows and blows upon the invaders that did us proud. However, fortune favoured our enemy and we have paid tribute to save all that we hold dear.
Secondly, good news! Politarchopolis is now part of an exciting and quickly growing empire, with fantastic prospects in trade and culture.
Long live the Khan!
Long live the Yeke Khatun!
Long live Lochac!
– Baron Crispin, Baroness Joan
Fellow Politarchopolans,
This Saturday the hordes swoop down upon us, with every expectation of adding Politarchopolis to their empire.
However, little do they know that we are forewarned through the efforts of our scouts (and also the event notice on Facebook and here on the baronial website).
Where: Tuggeranong Archery Club, 299 Soward Way, Greenway ACT
9am: Site Opens for set up
10am: Opening Court
10:30am-12: War session 1
12pm-1pm: Lunch
1pm-2:30: War session 2
3pm: Closing Court
4pm: Site Closes
Thus we shall meet them fully prepared and send the Khan and Katun away empty handed. And all in time for the next Ultimate Fighter tournaments on Sunday from 10am at Ainslie Scout Hall.
See you there!
– Baron Crispin
Hi everyone,
the next date for Ultimate Fighter (Glaive round) is the 22nd of March 2015.  There was some confusion regarding the date.  Their Majesties are likely to be in attendance so please join us to celebrate skill at arms and grace on the field.
Anne
Seneschal