On Saturday last (May 24) we were entertained by a rapier tournament, during which we chose Don François Henri Guyon to replace Lord Clement as our Rapier Champion for the next year.
We were joined by Their Highnesses Elizabeth and Cornelius, as well as a goodly number of our populace, and several newcomers. Several people did a wonderful job talking to passers-by about what we were up to in the park, which is much to be commended.
Two courts were held during the afternoon. New Officers were publicly announced, being Lord Gabriel van Dorne (Hospitaller, with thanks to Countess Liadan who preceded him), Lady Iseldis (Chirurgeon) and Lord Fionghuine (Lists).
Sophia van Dorne was thanked for her exemplary service as A&S Officer, and Lady Anne de Tournais was announced as Acting in this position, as Sophia's replacement is not currently able to take up the office.
The Baroness and sundry others jumped merrily into a Leaf Pile which appeared on the tourney field.
Mistress Isobel retired from the Baronial Retinue.
Baroness Alesia also retired, being replaced by Sir Ysambart Courtin as Sergeant of our Guard.
Jack Argent and Saffiya swore homage and became members of the retinue. Saffiya has the title of Cup-bearer, while Jack is Lord-in-Waiting.
Lord Ben the Undecided received a Burly Griffin for service, and Lord Owen of Torlyon received one for his prowess on the fencing field.
Lord Lorccan Ruadh was the victor of the tournament, following two rounds of tie-breaking melee between the four top contenders.
The day was fine and the company excellent. The gingerbread was also excellent. We thank Lord Clement as steward of the event, and all those who helped him make the afternoon so enjoyable. We look forward to seeing everyone next time!
Greetings unto the populace
Come this Saturday 24th of May to join with their Excellencies, the Baron and Baroness of Politarchopolis for a Quarter Court and Picnic in the park as they choose their next Rapier Champion. There will a Tournament for all of those who wish to display their skill at arms.
The event will open at 12:00 noon and the Tournament will start at 1:30.
…Admission is $5 for members $10 for non members, no booking is required.
Location: Nara Park, Flynn Parade, behind the Hyatt
Contact Clement on clem.avenell@gmail.com if you have any queries.
Baronial monthly meeting is scheduled for this Sunday, May 4th, between 2 and 3pm at the Ainslie Scout Hall, cnr Ebden and Hassall Street, Ainslie.
Officers who are unable to attend are asked to provide the Seneschal with a brief update.
There will be important info on how we need to manage event financials, so stewards for upcoming events may want to attend, or make sure to check the minutes when available.
Sorry for the late notice! We are all trying to keep meetings regular and well advertised, but Festival happened. Hopefully, from June we will be back on track for meeting on the second Sunday each month.
Overall, the new site seems to be a success. The weather was clement, and cold enough to enjoy wearing proper garb. No rain, and one windy afternoon which saw a few tents in need of rescue. There will be more toilets next year, and the map will doubtless be tweaked so that everyone has the space they need.
Three knightings – our own Sir Niall among them.
One new laurel – Elena le Bruestere from Innilgard.
No new pelicans.
The War Procession went off very well, with an excellent show from each contingent. The Royal Seer made a dramatic appearance, in order to prevent excessive bloodshed.
We won the Olympiad. There were various games – fencing (won for us by Don Galbraith, provided by
Northern Reaches), archery (won for us by Sigmund Spelman), running in armour (won for us by Draco), running unarmoured (lost, but a fine run by Claire from Descartes), shotput (won by a full metre for us, by Redfox from Okewaite)), javelin (Alex MacAlpin, in fine form and beaten by only about six inches), tug-of-war (won decisively by Descartes) and discus. Apologies, I can't remember who the discus thrower was. From Innilgard maybe?
The war scenarios pitted Greeks against Persians. We fought bravely as the Persians, but the Greeks had the victory by a narrow margin.
Rowany was declared the overall winner, and the King made peace between the warring Barons.
There was a forge on site where a number of people learned some smithing and came home with useful things they had made. There were lots of classes on all sorts of topics – what did you learn?
Greesispoone fed many people and was much appreciated.
There was a LOT of fencing. Robin of Ambledune won the Newcomer's Tourney. Ceara was awarded the prize for her chivalry and enthusiasm in the Baronesses' Rapier Tourney.
Our archers did well (of course). Isobel le Bretoun won the Period Division. For the first time, we undertook archery during court, and (fortunately?) both Barons missed the herald. Baron Crispin shot a pavilion, Baron Loyola shot a chair, and in the end both shot gold. Loyola's gold was shinier than Crispin's, and so the Royal force joined Rowany for the Olympiad and wargames. 
We had combat archers! Hopefully there will be even more next year, as there were a number of people who were not quite ready this time.
Andronicus is no longer incipient, but is now a full College.
The Baronial Brunch seemed to go down well. Accipiter, Whyte Company, Burbage and Aldhelm members all helped with preparation and cooking, keeping the pancakes coming despite the breeze which kept trying to interfere. Many others came to feast and socialise. Thanks to all who joined us for the morning, and we hope to see even more of you next year.
Our college members (both Andronicus and Aldhelm) were complimented many times for their courtesy towards other members of the populace, in fetching and carrying, babysitting, minding the troll tent, heralding and more. They were also prominent in assisting us throughout the event.
Our first Festival as B&B has been rewarding as well as busy. We offer congratulations to all who had success in their endeavours, and thanks to all who helped us in ways small and large. We hope you all had at least as much fun as we did, and are already planning for next year…because Festival is only two weeks away!
Regards,
Joan and Crispin.
Greetings, Polit!
We have laid in a supply of baronial stickers. They are the same as already sported by a number of vehicles around the Barony.
The stickers cost $3.00 each, and are available directly from your B&B.
We will have them at Ainslie hall this afternoon. Profits will be donated to the baronial coffers.
Politarchopolis Baronial Meeting
March 16 2014
 Meeting opened 2:10 pm, with apology from Simon who was running late.
 – Baronial reporting completed recently. Yay!
 – process regarding fourth peerage complete, no published results as yet.
 – Other Baronies –
Stormhold – selection process underway.
Rowany – Miles and Ameline announced as successors, invest in May.
Innilgard – Eva and Yevan selected, invest before Festival.
 – Officers –
We have one applicant for each of the open officerships. All current applicants have been found acceptable. Their names will be sent to Lochac Seneschal, and once announced, there will be a commentary period of two weeks for the populace to make any opinions known. Each of the applicants present made a brief introduction to the meeting. Proposed officers are:
Naomi (Muirghein) – A&S
Niall – Marshal
Leta and Alexandra – Chronicler and Webwright
Luke (Gabriel) – Hospitaller/Chandler
Lorcan – Captain of Fence
Catherine Connor – deputy for whoever needs one (possibly Luke at this time)
Shona (Iseldis) – Chirurgeon
 
– Hall issues-
There have been several occasions recently when the hall has been found dirty or not properly locked up after our sessions. There are extra charges to the Barony for cleaning, air conditioners left running etc. Extra vigilance is required!
The last people using the hall or park must take responsibility for leaving the premises as it should be.
Unscheduled visits by other hall users could be contributing to the problem. We need to be certain our group is shutting everything up properly.
Simon is to prepare a checklist poster which will be prominently displayed in the hall.
Suggestion we keep a record each session of the hall status, so we have proof if needed.
 – Baron and Baroness-
Next event is 30th Anniversary Feast of Fools (29th Mar). Come along!
Roll of arms has been updated as far as currently possible. Yay! Thanks to those who have contributed. Keep sending in corrections and updates if you have them.
 – Festival-
Baronial Brunch at Festival – pancakes and basic condiments will be provided for all who wish to take part. Held in Polit Central campsite on the Sunday morning.
Niall is to be knighted on Monday at Festival. Open vigil will be held at Morales Beaumont on Sunday night, after the Fighter Auction.
 Polit Central campsite meeting scheduled for today no longer required, therefore cancelled.
 – Food Safety Legislation –
Members of the Barony who would like to receive training as Food Safety Officers should contact the Seneschal. A number of people will be sponsored, so we have people available for every event.
Interest already indicated by Brigid, Helouys, Catherine Connor.
 – Working with Vulnerable People-
Anyone working with minors (marshalling, running a class etc) will need to have a WwVP card. The check is free for volunteers, but requires filling in a form, providing passport photos and witnessing by a JP.
Use the Seneschal's details as contact info for volunteer organisation.
Simon to post information and links to paperwork on the website and email list.
 – General Business –
More advertising for meetings needed. This meeting was announced in the minutes from the previous meeting, but was not widely publicised in the leadup to the actual day. Info needs to be sent to email list, website and FB group. Simon undertakes to ensure this is better managed in future.
 Rachel (Liadan) wants volunteers to help with running her A&S event.
 Helouys – thanks for attendees at beginners dance session today. All welcome to future sessions also.
 Ulric – novelty archery shoot coming up, as there is a fifth Sunday in this month. "Winter" archery targets are at 20, 15 and 10 yards. Sunday 30th March, Tuggeranong Archery Club.
 Meeting closed 2:58 pm. 20 people attending. Minutes taken by Joan.
The next Baronial Meeting should be at 2pm, Ainslie Hall, Sunday 13th April.
Here you will find some information and resources about Rowany Festival, the SCA's largest event.  In particular, this page deals with the Politarchopolis baronial campsite.
Going to Festival?
Easter is only Two Weeks Away!
You may want to consider:
 If you'd like to stay in the Politarchopolis campsite (Polit Central), make sure to tell Anushka, who is co-ordinating it. There's a Facebook group for it: "2014 Politarchopolis Festival Campsite". And when booking for Festival, make sure to put Politarchopolis as the group you are camping with, so that the campsite is big enough to fit everyone.
The Politarchopolis campsite is not planning a food fund, so you may wish to book with the Greesispoone kitchen being run by our very own Mistress Monique. See http://greesispoone.wordpress.com for further details.
If you are a heavy fighter who first fought in Politarchopolis, then you are eligible to join the Politarchopolis team for the "Group of Origin" tournament that is being organised for Monday afternoon at Festival by Count Niall. Talk to Countess Liadan, who is organising our team.
The war this Festival is between Politarchopolis and Rowany: we need your help! Heavy combattants, combat archers, water bearers, banner bearers and generally anyone keen to see our Barony victorious are welcome to join the war effort, either at the procession in opening court on Thursday night (and the party afterwards), on the battlefield or helping make banners and other items in the lead up. Talk to Baron Crispin if you want to get involved, either in person, or send an email to politarchopolis@lochac.sca.org.
We're also planning a Baronial Brunch for Sunday morning at Festival, from 8:30am. Joan is cooking pancakes, so come along to Polit Central and eat, socialise and prepare for war.
For more about Festival, see the Festival Website: http://festival.lochac.sca.org/
6.30pm – 8.30pm
Cost: Gold coin donation to hall costs (Non members pay $5 for insurance in addition)
Bring: Good sense of humour and maybe some snacks/a drink
Program is open to suggestions, but the current plan is;
Dancing:
Revision of Known World Pacane and the Black Allemande.
New – the Official Bransle and another Bransle if we have the time
Singing: Tavern song and a round
Performance: we are currently open to suggestions!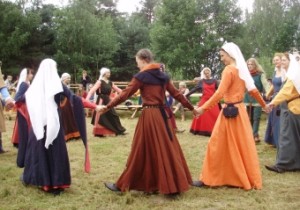 Hello everyone!
A few A&S updates 
Firstly, there is an extra class being run this weekend. Rachel will be hosting a class at 1pm: Entering A&S Competitions for beginners. Should be a great class for people to learn some of the ropes and get up the confidence to enter.
Secondly, Helouys and Lady Emeline are going to hosting a series of focused dance workshops to get people festival dance ready and working towards their Silver Rondels. The sessions will start on Sunday the 15th of March, go from 12.30 – 2pm, and run for 5 consecutive weeks. These classes are for both beginners and those who need to brush up on their skills. The last session will be the Sunday before Festival so it should be fairly fresh in everyone's minds and it will be a mini garbed ball so that beginners can get used to dancing in skirts and slippery shoes.I've added each of the sessions to the class list below. Remember: dance is lots of fun and great exercise. Come join in!
Don't forget on Wednesday evening we have a class on Identifying Fabrics and on Friday we have Courtly Graces. Sunday includes brewing with Rurik (please give me a yell if you want to get involved) and A&S competition introduction by Rachel.
Lastly, I need a little help with banners. If anyone can lend a hand hemming on Wednesday or Sunday I would be beyond appreciative.
……..
26th Feb – Wednesday 7.45pm – Fabric Identification
28th Feb – Friday 6.30pm – Courtly Graces
2nd Mar – Sunday 12noon – Brewing with Rurik
(booking required for practical, cost TBA)
2nd Mar – Sunday 1pm – Entering A&S Competitions for Beginners
5th Mar – Wednesday 7.45pm – Easy potluck plates
and simple period dishes
12th Mar – Wednesday 7.45pm – Ye olde wattle
bottle covers (gold coin donation for fabric)
15th Mar – Sunday 12.30pm – Dance Session 1, Cassandra and the Knowne World Pavane
19th Mar – Wednesday 7.45pm – Intro to blackwork
embroidery styles and stitches
23rd Mar – Sunday 12noon – Workshop, Make your
own weapon rack (bookings required for practical, cost $35)
23rd Mar – Sunday 12.30pm – Dance Session 2, Pinagay and the Black Allemand
26th Mar – Wednesday 7.45pm – Basic history and
styles of period beadwork
30 Mar – Sunday 12.30pm – Dance Session 3, Ruffty Tufty
2nd Apr – Wednesday 7.45pm – A class on period
plays
6th Apr – Sunday 12.30pm – Dance Session 4, Review
9th Apr – Wednesday 7.45pm – Designing and
registering your coat of arms
13th Apr – Sunday 12.30pm – Dance Session 5, Mini Garbed Ball
30th Apr – Wednesday 7.45pm – Event Feasts
7th May – Wednesday 7.45pm – Period Toys and
Games
In Service
Sophia
I have just updated the Roll of Arms as far as I am able. This pretty much means that I've added our awards from Valentines', and a few out of an old post I discovered from Ginevra.
Obviously this still leaves enormous gaps in the record. We've decided it may be useful to put out a call, for you all to look at the existing list and see if you can help to fill those gaps.
If your name is incorrect, that's an easy fix. Send us an email.
If you are sure you have received a certain award, but are not listed, we will need as much info as possible. Give us your name, the current B&B, Herald's name, event and date – as many of these as you can fill in. We will attempt to cross-check your memory with the appropriate herald and B&B, and hopefully our roll of arms for the last decade will look much less ragged.
Fingers crossed!
Joan.