With our warriors returning from Rowany Festival, the Foundations of Armoured Combat Course will resume this Sunday (3rd of April) with our first practical training session. Anyone can come along, pick up a sword and learn the arts of medieval warfare.
We will revise the basic guard and stance, along with the warmup motion. A direct cut and ear to ear cut will be covered, along will shield defence against these cuts. Suitable for beginners, all equipment provided.
WHEN: Begins 3rd April 2016 at 1.00pm (classes run for an hour)
WHERE: Ainslie Scout Hall, Cnr of Ebden & Hassall Streets, Ainslie, ACT
COST: $20 for the entire course, free for paid students from the 2015 course.
Non-Members will need to pay $5 per session for insurance purposes (Membership options available)
There will be no access to the hall or training scheduled for the next two Sundays due to the impending Rowany Festival.  Normal training and activities will resume in April.
Anne
Seneschal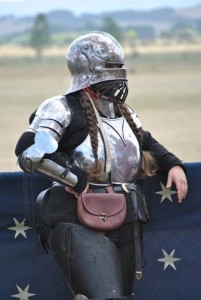 A call to arms! The Canberra chapter of the Society for Creative Anachronism is inviting Canberrans to pick up a sword, fight like a knight and learn the arts of medieval warfare over an 9 week "Foundations of Armoured Combat" course commencing on 13th of March.
The Society for Creative Anachronism (SCA) is an international organisation devoted to bringing the Middle Ages and Renaissance to life through research and re-enactment, employing their knowledge of history to enrich their lives and the lives of others. With over 100,000 participants worldwide, the SCA is one of largest living history societies in the world.
This course is designed to teach the fundamentals of armoured combat in the SCA and starts with an introductory session on the 13th March 2015, with practical classes from 2nd of April and following Sundays in Ainslie at the Ainslie Scout Hall, corner of Ebden and Hassall Streets.
"Last year we had a strong turnout of people looking to become modern day Crusaders, Vikings, Spartans or Knights" Ben Norman (aka Lord Otto Sexburger), course instructor said. "However I'm sure we can find a few more in Canberra, I'm sure the Baron is looking forward to having more men and women to fight on our side in the kingdom's next war"
SCA fighting is not the impractical and highly stylised fight choreography seen in Hollywood blockbusters but a martial art that is designed to emulate armoured combat in a way that allows you to deliver full powered blows without hurting your opponent.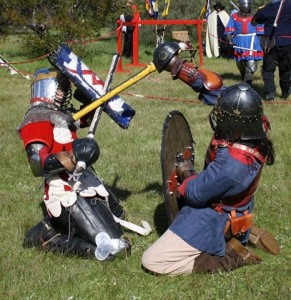 Male and female fighters (aged 16+) dress in armour, which ranges from full plate steel to padded doublets and leather, to protect them while wielding swords, spears, and axes made of rattan to simulate the balance and handling of original weapons, without the lethal qualities. Mr Norman is quite proud that "…by the end of the course each student has made their own sword and shield to use, a set of loaner armour to fight in and we're helping them to either buy or make their own set of medieval armour".
"Anyone can pick up a sword and have a go but the SCA offers you the opportunity to not just like fight like a knight but to aim to be one," Brigid Costello (Baroness Anne de Tournai), Canberra President, said. "You get the fighting but so much more – it's a gateway to a worldwide society of tournaments, wars, feasts and balls. Your whole family can be involved."
WHEN:                 Introductory Session 13th March 2016 at 1.00pm
Practical training commences 3 April 2016 (classes run for an hour, followed by supervised free sparring)
WHERE:              Ainslie Scout Hall, corner of Ebden & Hassall Streets, Ainslie, ACT
COST:                  $20 for the entire course plus $7 per session for insurance purposes (Membership options available)
CONTACT:          Benjamin Norman (Instructor) poleaxecanberra@gmail.com
WEBSITE:           http://polit.lochac.sca.org
Greetings,
Schedule for Saturday's event is:
1500 site set-up
1700 event start – games. Also try out archery, rapier and heavy.
1920 Baronial Court
2000 event close
Plenty of room for additions – just ask…
Aeveril of Ambledune
Greetings all,
As of today's baronial meeting, I'm the campsite coordinator for the Politarchopolis campsite at this year's Rowany festival.
If you are the contact for a household that is camping in the Politarchopolis campsite, or if you are not part of a household but want to camp with Politarchopolis: Please let me know how many people you expect to be camping with you and give me a list of your tent dimensions.
This will help me with planning out where to fit everyone and will help ensure our campsite gets enough land.
The other important way to ensure we are allocated enough space is to book for Rowany Festival. Go do that NOW!
http://festival.lochac.sca.org/
Thanks,
– Baron Crispin
The last regular Sunday afternoon practice for the year is on the 19th of December, and to end off the year we are having a pot-luck (bring a plate to share) celebration.
Reading Anne's wrap-up in Griffintayle reminds us that this has been a big and varied year, so come along and join in, talk about what we've done and bring your ideas for what we should do next year.
– Crispin and Joan
Greetings everyone,
Fields of Gold was fabulous once more, thanks to a large and dedicated
team of people. We will leave it to the Stewards to make their specific
thanks, but we would like to note that a large multi-day event such as
this requires a huge amount of time and effort.
Thank you to any and all who helped, even in the smallest way. Chipping
in where you can reduces the burden on the stewarding team and makes a
much more pleasant event for everyone.
There was a LOT of court. Their Majesties made numerous awards which
were very well received. We also conducted some baronial business, and
paid our taxes to the Crown. Our thanks to the populace who provided
goods with which to pay those dues.
Thank you also to all who assisted us and the Crown at various times. We
were excellently attended during the event, and knowing we can rely upon
our retainers is a marvelous thing.
We hope everyone enjoyed the event and came away with great stories to
take home.
Regards,
Joan and Crispin.
Unfortunately the Andronicus Tudor Feast has had to be cancelled. Apologies for the late notice.
However things are ramping up for Fields of Gold: See you there!
We've had great fun at the Field Day Demo and at Baronial Quarter Day. Thanks to all those who helped out.
Next up: The College of Andronicus has announced a Tudor Feast in honour of the current King and Queen.
And of course, There is Fields of Gold at the end of November.
– Baron Crispin
Greetings All,
A few events of note are coming up within the barony:
Murrumbateman Field Days demo (17-18 October, Murrambateman): Otto Sexburger is the steward, please contact him with offers of help. There will be tournaments and display tables and no doubt other things. This is an important chance for Torlyon to attract new members, so come along and help.
Baronial Quarter Day (24 October 2015, Tuggeranong Archery Club): Ginereva is the steward of this day of picnicking, archery and tournaments, including the baronial archery championship.
Fields of Gold (27-29 November, Bungendore Show Grounds): Ysambart Courtin is the steward of this weekend of tournaments, classes, jousting and feasting. This is a Royal event, with many visitors from around the kingdom, so come along and join the fun.
– Baron Crispin