Greetings unto the populace
Come this Saturday 24th of May to join with their Excellencies, the Baron and Baroness of Politarchopolis for a Quarter Court and Picnic in the park as they choose their next Rapier Champion. There will a Tournament for all of those who wish to display their skill at arms.
The event will open at 12:00 noon and the Tournament will start at 1:30.
…Admission is $5 for members $10 for non members, no booking is required.
Location: Nara Park, Flynn Parade, behind the Hyatt
Contact Clement on clem.avenell@gmail.com if you have any queries.
It's the day when Canberra comes out to play so we thought we'd join in!  It's always great to get out to promote the game we love even it was a little bit warm!
This weekend Their Majesties, Niall and Liadan took the fealty oaths of Crispin and Joan, investing them as Baron and Baroness of Politachopolis upon the Fields of Gold!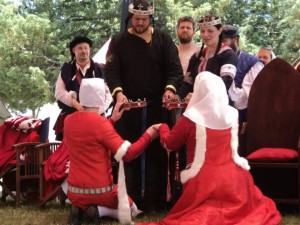 Greetings unto the Populace,
With the New year approaching soon the Baronial Rapier Championship will be held on the 11th day of May along side the New Years/Mothers day Feast.
The feast will be a midday buffet feast run by Lady Helouys Le Poer, helpers will be walking around with food on trays and the Rapier Championship. The tournament with a short break in the middle with entertainment.
Details:
1200: Site and lists open.
1230: Food served.
1300: Court then Tourney.
1430: Small play.
1500: Tourney re-commences.
1600: Closing Court.
Specific Tournament info: Round Robin any item off hand defense.
Site Location: Ainslie Hall, Ebden Street
Event cost: Members $15
Non-Members $20
Children $10
Non-Member Children $15
The Steward, Lord Paidin MacLorkan asks that if there are any members of the populace that are able to assist for the event could they please contact him on devilwuvangel@gmail.com as soon as you can.
Bookings can be sent to devilwuvangel@gmail.com