One of the strengths of Politarchopolis is the desire of our populace to create, make and learn. Even for the most passionate person, goals can make this easier. With this in mind, I am minded to sponsor a pentathlon, building on the very successful pentathlon run in Politarchopolis, several years ago.
Items created as part of the pentathlon can be used for other Lochac A&S competitions such as Kingdom competitions, eligible Rowany Festival competitions, or some of the local competitions such as the A&S competitions at Fields of Gold.
Displays will be set up throughout the year and tokens awarded at the end of the Pentathlon. A display will be held at Fields of Gold (this display will also incorporate Lady Gwen's Arts & Sciences Champion's Challenge and the 'Something Gold' competition.)
Commencing in July AS 54, the Pentathlon will run from time of announcement to the May 2020 Rapier Baronial Championship.
Your Servant,
Baroness Anne, OL
---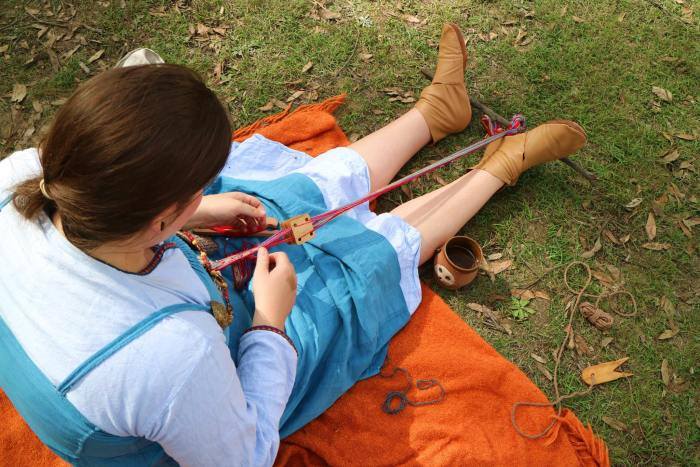 ---
Politarchopolis' Persona Pentathlon Guide 2019-2020
This Pentathlon requires five (5) separate items that a single person from a single time and place covered by the SCA would have used or owned. Your entry does not have to be your persona, but all five (5) items should be from the same time period and culture for a single individual. Three (3) of your five (5) items must be from different categories from the list of categories: Display, Physical Presence, Personal Adornment, Equipment, and Largesse. There is an optional category Profile, which can also be completed.  Be creative and enrich our game with your displays.
Displays will be set up throughout the year to showcase the work of participants. Feedback given at the time of those displays will be based on the Lochac Rubric. (https://artsandsciences.lochac.sca.org/judging-scheme/)
Classes will be held throughout the year to support the pentathlon (based on the needs identified in the A&S survey). Heraldic consultations are also available for people who wish to register their heraldry as part of this process. 
At the end of the pentathlon, the populace will vote for their favourite collection online (photos of the items will be collected) and tokens donated by the Baroness will be awarded at the July 2020 Quarter Day.
If you are unsure if an item fits a category, please check with the Arts & Sciences Minister and the Baroness.
Categories:
Decorative Display: items that are displayed to add beauty, pageantry, status (e.g. Banners, flags, pennants, standards, gonfalons, wall hangings, tent decoration etc.)  
Physical Presence: items that add to a person's physical presence (e.g. tents, furniture, tent screens etc., napkins, crockery, water bottles)
Personal Adornment: items that are worn on the body (jewellery, favours, tabards, armour and clothing etc.) 
Equipment: items that are tools related to an activity (such as needle cases, authentic tools, calligraphy materials, etc.)
Largesse: items or largesse for the Barony that can either be gifted to enhance a persona or that add to the presence of the barony. (Items in this category should be discussed with the Baroness first please.) 
OPTIONAL: Profile.  Participants have the option of completing Mistress Marienna Jensdatter's Persona Questionnaire at the beginner, intermediate or advanced levels to understand the profile of their persona's life.  
---
Download this competition in PDF format. Download includes Mistress Marienna Jensdatter's Persona Questionnaire.
---